Sunday we joyfully celebrated the resurrection of our Savior, Jesus Christ. We spent our morning at church and then enjoyed lunch with Reagan's family followed by an afternoon in the pool. Our girl played hard and we intentionally didn't put her down for a nap. On our ride home, at 7:30 Sunday night, she was asleep within 10 minutes of leaving Susan's. And with the exception of the time she woke up to come to our room to lie down on her pallet, and then later to get in our bed, she slept until almost 8:00 Monday morning.
But back to Sunday morning. Here is our girl after I woke her up and told her that she had a few goodies in her Easter basket. She had just gotten out of our bed, so her hair was cray-zay. And, you can tell she's excited and wants to smile, but she just didn't know exactly how to respond when she saw her basket.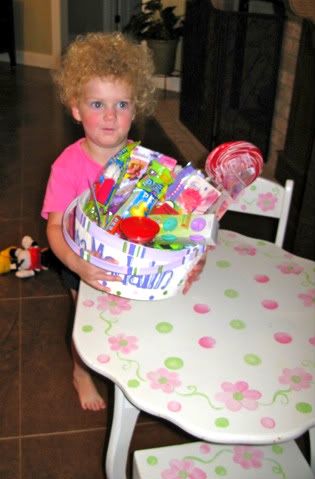 She got several little things in her basket. She loves tattoos right now. She first got one at her swim school. At the end of lessons, they get either a sticker or a tattoo. She always wants a tattoo. And, she's been watching "Tangled" for the past few forevers (at least that's how it seems to me). So, I got her some "Tangled" stickers and tattoos. She got a pair of Dora sunglasses, some pony tail holders, some playdough, a few $1 board books, some jelly beans, Pez, a sucker, and some $1 beads from Target. I think I spent a little over $10 on her basket goodies. And she loved everything in it.
Before we headed to church, we took a few pictures on the back porch. First, me and my pretty girl.
That would have been a great picture were it not for the canister of ant poison on the table beside us.
As I said, after church, we went to Susan's house. Every year for the past 5-6 years, Reagan and I have taken a photo at this bench on Easter Sunday. For a few years, it was just us. The past 3 years we've had a celebrity in our midst. She's so much of a diva, that we now have to take our traditional photo with her wearing her "sungwasses."
Before we ate lunch, I took SM in to change her out of her dress. Before I changed her though, I took one more picture of her with her shades on. She's such a mess.
We ate and then Papaw and I hid eggs for her to find. It's the first year she's hunted pretty much on her own. We pointed her toward a few, but she carried her basket and hunted like a big girl.
We hid them a couple times for her, then she was ready to get in the pool. Here she is with her Sue-Sue as we were going in to change into our swim suits. She loves Sue-Sue so much.
My little surfer girl.
Mitch's girlfriend, Mallory, joined us for a little while. Sara Madalin loves to play with "Malwee." Here they are eating a popsicle and playing with some of the water toys.
We all played outside in the pool for several hours. The weather was beautiful and Susan had heated the pool some, so it was a perfect day to just lie in the pool, and sit around relaxing. Here's one last shot of SM and her Daddy before we all went inside and changed clothes.
We had a great Easter Sunday.