Friday morning, SM and I got up and started baking cupcakes. We had several get-togethers planned for the weekend and I had volunteered to bring dessert for a couple of them. So, we baked our cupcakes and then, while they were cooling, went to see Reagan at work. She helped the ladies in the office for a little while. Then, we left and went by Sonic for lunch.
After we ate lunch, I started preparing all my ingredients to make
buttercream frosting
for my cupcakes. As I was sifting the powered sugar, my daughter decided to do something that we've told her a million times not to do, climb on the bar stool, then onto the kitchen counter. As she was climbing atop the stool, she lost her balance and fell. As she came down, her forehead hit the corner of the barstool.
To say it scared us both, was a little of an understatement. I don't handle those kind of situations well. I tried to stay calm so I wouldn't upset her, but she was crying big tears and I could see some blood coming from where she hit it and there was a knot forming. I immediately called Reagan and asked him to come home and look at it, so I'd know whether or not to go to the ER.
I put ice on it and he came and looked at it. He said he thought she'd be ok. I could kind of tell that not long after I called him when all she wanted to do was play with the ice and not let me put it on her eye. Here's a picture of her eye not long after he left.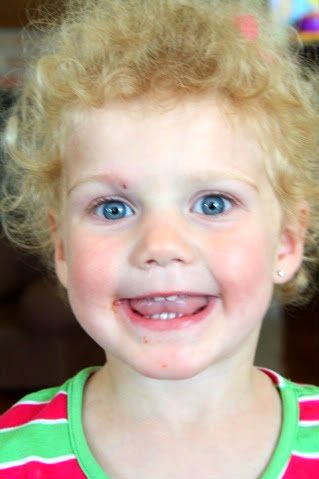 It looks much better now. There's a small knot and bruise. When it happened, I immediately thought about how that was going to look in all the Easter pictures I'll take of her this weekend. But then, I immediately reminded myself that it could have been so much worse. I'd rather she have a bruise above her eye in the pictures than not be able to see. Trust me when I say, the knot has not slowed her down one bit. And it wasn't 15 minutes later that she was climbing up on the bar stool again. I had to remind her several times of her falling earlier in the day.
I did manage to finish a batch of cupcakes before I put her down for a nap. Here are a few pictures of our cupcakes.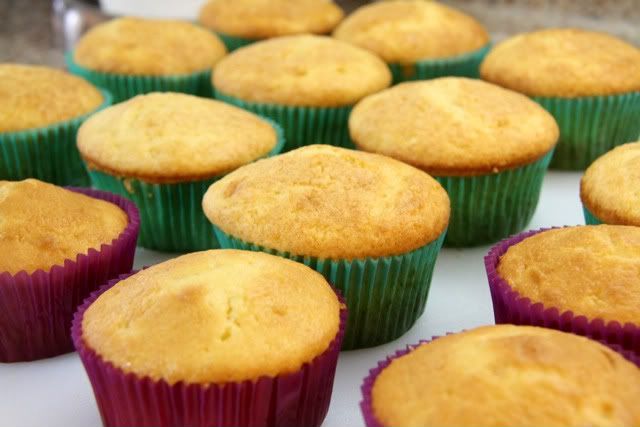 This is 4 cups of sifted confectioner's sugar. I don't think I've ever sifted anything before. I felt like I was really baking by making this from scratch. Now, the cupcakes were from a box, but the frosting was from scratch. Ha.