During my first year of college, I lived with two girls that changed me. One was my best friend from high school. The other was a girl that neither of us had met before. Her name was Penny and she was a Sophomore and from another town. We met her the first night we stayed in the dorm. It didn't take us long to fall in love with her and the three of us laughed more that year than I ever thought I would.
Since that first year of college, Penny and I have kept in touch. Sometimes we've talked more frequently than others. But it is so wonderful that even after time passes, we still talk and get together when we can. And we still laugh as much as possible.
She married a boy, Rod, that also went to college with us. He's not so bad. ;-) They now have two children - one is 15 years-old, the other is 12. The last time they came over for dinner and games, their daughter played cards with us and beat me. To say I was a little upset would be an understatement. I hate to lose. So, I told her that I would have no mercy on her the next time. That next time was this past Friday night when they came to our house with pizza for dinner and games.
They arrived a little before Reagan got home. I put Rod to work while Penny and I talked and Jessa entertained Sara Madalin. (They (a 3 y/o and a 15 y/o) were in SM's closet swimming from sharks when I check on them. They both have quite an imagination.) Oh, Rod? Back to him. He took one of our brooms and finally got SM's swing down from the tree where it had blown during the storm Tuesday night.
Sara Madalin was very happy about her swing being back in its proper place.
When Reagan got home we enjoyed pizza and caught up a bit. Then, we started a game of Phase 10. Sara Madalin played pretty well for a few minutes at a time. She took all the napkins and unfolded them on the floor and laid her stuffed animals out for bed. She worked on a puzzle. She stacked several plastic cups to make a castle. Then she convinced Rod to get involved with a side game of Memory while the older kids played cards. I'm not sure, but I think she beat him.
I ended up beating Jessa. I didn't win the whole game and I'm not sure who else I beat in the score, but I do know I BEAT JESSA. And that's all that matters.
Here's a picture of our girls.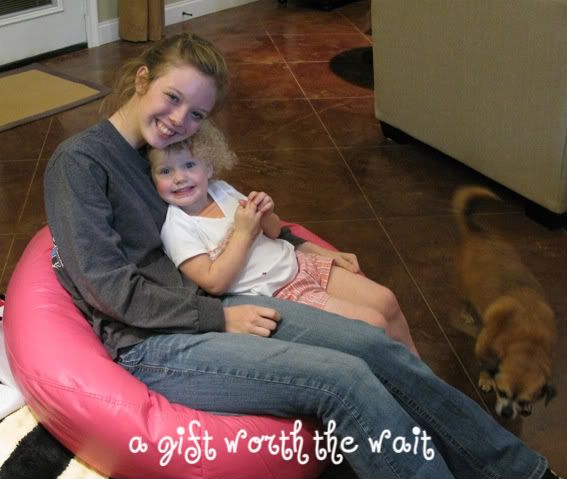 I can't believe Jessa is 15. I remember how tiny she was when she was born. Time flies too quickly. That's why I'm glad that we all make time to see each other when we can. It's nice to gather with people who make you laugh and support you through so many changes in your life. We've seen each other through so much. And the great thing is, we still like each other most of the time.
Sara Madalin loved having them here. When she got up Saturday morning, she came into the living room and said, "Where dey go? Where my friends go?" I guess we'll have to invite them over again sometime soon.