Tuesday evening we went to an open house event at the school Sara Madalin will attend beginning this Fall. Before we left the house, I tried to get a photo or two of her on the back porch. This was as good as it got.
She would not be still. I don't know if she was excited about going to her "new school" or if she didn't get a good nap. But she was wired.
Here she is outside the preschool area. (I erased the name of the school in order to hopefully maintain some privacy. Don't know if that privacy will be maintained long, but I'm going to try it.)
She was given a train as she entered the first classroom. In each classroom, they received a sticker to add to their train.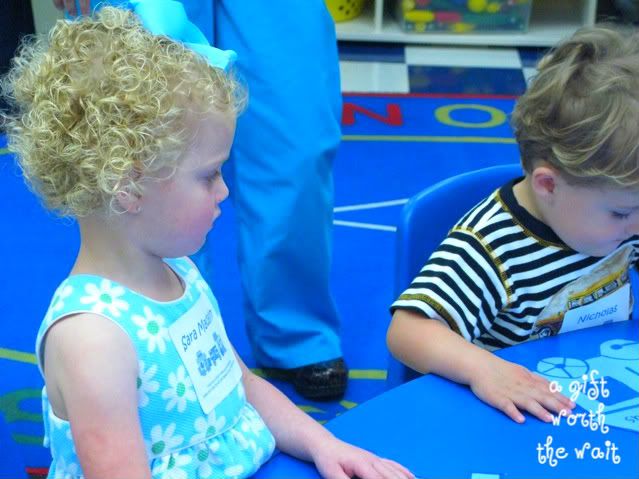 She did pretty good as we visited each classroom and met the teachers. It was her first time to visit the school. (Reagan and I have been a couple times before.) She would get her sticker in each room, then she had to explore all the toys and games and anything else we'd let her touch. I don't know who her teacher is going to be yet, but whoever it is will definitely have their hands full with that girl.
After she received all her stickers, we went outside to the playground. This was by far her favorite part of the evening. She played and played, and would have played longer had we let her. Here she is on the slide.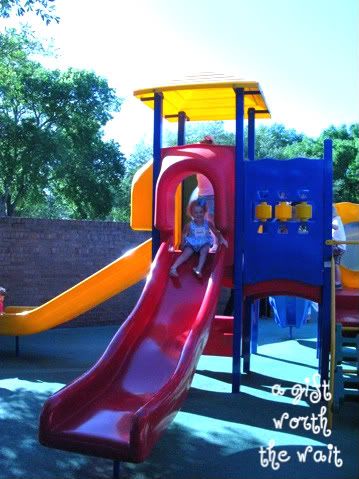 She did pretty good about taking turns and not getting in front of any of the other kids in line. That is, until she had a couple cookies and some skittles. There was a snack table and she ate two cookies with quite a bit of icing, and then several skittles as well. I don't care what argument anyone brings or what tests may have proven otherwise, sugar has an affect on Sara Madalin. Reagan said it's like a drug to her. When she has a taste of it, and then it's taken away from her or denied her, her behavior changes - for the worst. After the sugar, she went back to the slide and the first person she got in line behind, she pushed right on down the slide. Not in a mean way or in a way that would hurt them. The child was already in a seated position about to slide. SM just helped them get started. We had a talk with her about that a little later.
After a few more minutes of playing, we told her it was time to go to dinner. She was not so excited about that idea. Oh, she left the playground without incident, but as we walked back through the classrooms, she wanted to play again. She tried to touch everything in her sight. At one point, Reagan turned to me and said, "I think I'm about to have to pick her up and carry her out kicking and screaming." She did not want to leave. I guess that could be a good sign.
I'm glad she liked it. I hope she likes it just as much when she starts going every day.