Tuesday evening we took SM to a baseball game. We got there a little late. Maybe I should regress a little and lead up to the baseball game outing.
We had planned to take her to the game for a couple weeks. The postcard we received about the game stated that there would be a "Fun Zone" at the game for preschool and elementary aged children. We thought she would enjoy that. We watched the weather throughout the day Tuesday and decided around 3:00 that we would go to the game. So, I went to pick up Sm and get her ready for the outing.
I should have known that things weren't going to go well for the remainder of the afternoon when I picked SM up from daycare and was greeted with, "Sara Madawin took her pants off and pooped in the treehouse." That was the word I received from one of her classmates standing at the entrance to the playground. I looked at the teacher and she just smiled. I asked if it was true. She said yes. I apologized. And, in a way that only a 16 year old who has never been embarrassed by her child pooping on the playground could, she simply said to me, "Oh, that's cool." That's cool?
Eventually, we got her ready and made it to the baseball game. There was a live band and sidewalk chalk, so she was happy. She played and danced while Reagan and I ate and listened to the band. Here are a few pics I took with my phone.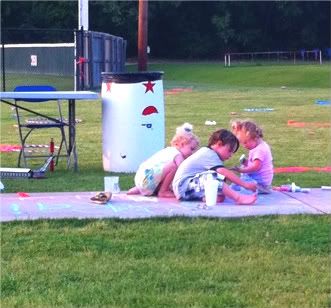 She was actually pretty good and played well with the other children there.
Oh, and there was baseball also. I think we sat and watched the game for about 5 minutes.
We left there and went by Susan's for a few minutes. Then we tried to make it home before all the bad weather came in - again. I don't know what time it was, but my sweet husband got up in the middle of the night (while SM and I slept peacefully in our bed) to watch the weather in case we had any tornadoes headed our way. I so appreciate the way he takes care of us. Thankfully, the worst weather missed us this time.