Thursday was Sara Madalin's last swim lesson of this semester. She's been in Water Tots 2 since January. This semester was her first to swim in the big pool. She has done so great this semester. She'll start another semester in May that will go through the end of Summer. She loves swimming. Here she is before lessons on Thursday looking in to the pool.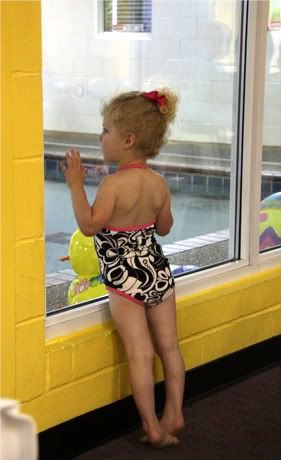 Look at those long legs on my child. As we were walking back to the car after church Wednesday evening, I looked over at her and noticed she is already as tall as my waist. At 3 years old! She's going to need to use that height for something - and I'm thinking it will be sports like swimming or basketball.
Here she is with the boys - Colton and Rhodes. They were reviewing the rules as Mrs. Katie does with them each week before lessons begin.
She was swimming across the pool in this next photo. As she was swimming, she turned toward the wall where the other moms and I sat watching them. She said, "Wook at me Mommy." We all laughed at her and I said, "I see you baby."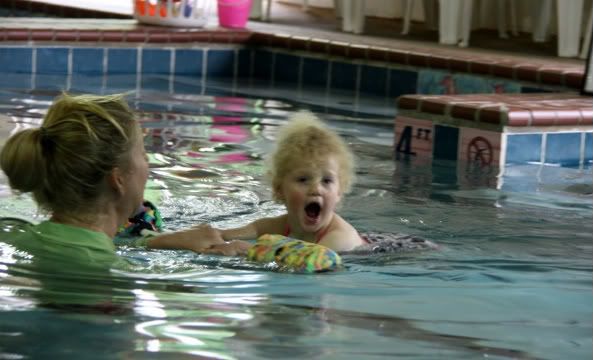 They have enjoyed each other so much this semester. Except for maybe one day. In the middle of lessons one day a few weeks ago, I looked through the glass and saw her biting his arm. I ran out to the pool and told her to apologize and that if she did that again, she was going to have to leave. After lessons, as I was putting her shoes on her, I told her it wasn't nice to bite people and that she shouldn't bite Rhodes again. She looked at me with the most sincere face and in the sweetest voice said, "Mommy, he's my best friend." It was all I could do not to laugh. I just said, "Well we don't bite our best friends."
They were both always excited to see each other. And his mom, Amy, and I enjoyed visiting as well. That's one of the good things about her swim lessons for me - it has allowed me some adult interaction while she's swimming. Amy and I visited the entire time each week and really enjoyed each other's company.
Here Mrs. Katie is giving M's toward the end of lessons. They all love those M's.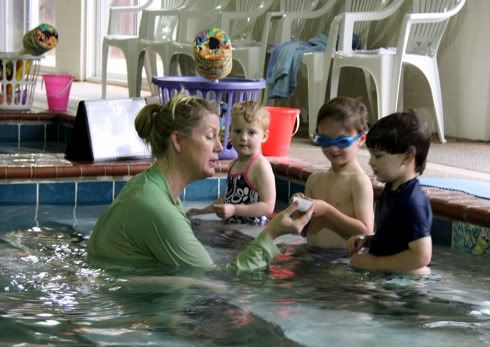 Look at this pitiful face. Drama Queen! Please start praying for us now because her teen years - oh, they are going to do me in.
She was upset because it was time for her to do "Humpty Dumpty." That's where they pretend to fall in and turn around to swim back to the side. When she "falls" in, she usually gets water in her nose. She doesn't like to get water in her nose. (Hence, the fake tears.) Mrs. Katie makes her do it anyway.
She really enjoys swimming and I can tell she's learned so much. I'm going to be sad when she stops taking lessons at the end of the Summer. She's just growing up too, too fast.