It's birthday week here at our house. I have been putting decorations together for SM's party Saturday. I made a special wreath for the front door. I've prepared about 30 treat bags for daycare and party guests. And I'm going to bake cupcakes either tomorrow or Thursday. On top of the birthday party preparations, we've also been having quite a few things repaired around the house. It always seems that contractors are only available to work during the busiest, and often most stressful, week of my year. I have a few pictures to post of some of the changes around the house, as well as pictures of some of the decorations for the party. If I have a few minutes between now and the weekend, I might post them and tell a little about those things. But, then again, I may not. So, we'll just see.
But I did want to share pictures we took a couple weeks ago when we were out shopping for SM's gift that Sue-Sue and Dae-bid are getting her. They are giving her a bicycle. We took her shopping for it because we needed to get the right size. And because we all wanted her to be able to pick out the one she wanted. We visited several places. We wanted to get one that was good for her now, but that she wouldn't outgrow in 6 months. We really wanted to find a red bike, since that is her favorite color. But we couldn't find one that didn't have some character (like CARS, or Elmo) on it. We ended up getting a pink bike. Here's hoping she gets a little sister someday to pass it on to. (Oh, and she's been telling me lately that she wants a baby "sisser." I haven't prompted her. We were reading one night and she pointed to a picture in the book and said, "I want a baby sisser wike dat one.")
Anyway, Reagan took a few pictures of her as we looked at bikes. After we found the bike she wanted, she made a bee-line to the helmets and said, "I want dat one." At least she's being conscious of safety. The salesman helped fit her helmet to her head. It looks so big on her.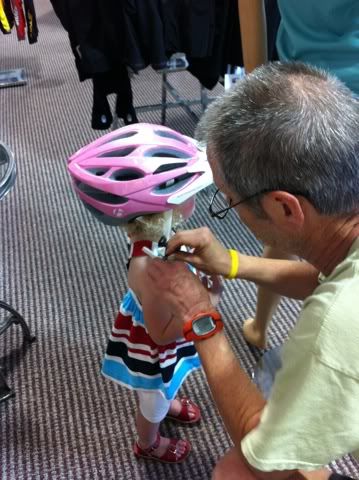 That is not a person standing in the right side of the next picture. It's a mannequin. I couldn't crop it out without making the picture really small.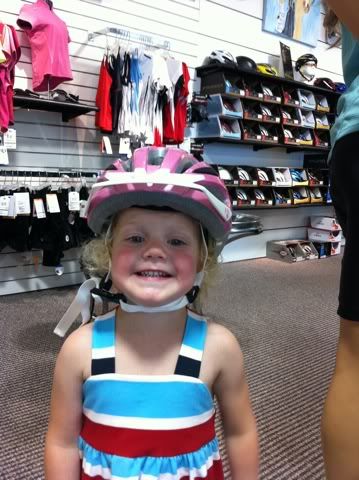 To be such a small bicycle, she sure does look like a BIG girl on it. I CANNOT believe she will be 3-years-old Saturday. Oh, and don't get me started on how I've already been crying about that. Filling favor bags with candy, mopping floors, and
crying
.