My "baby" girl turns 3-years-old this Saturday morning. We are so excited to celebrate her little life and how much joy and happiness she brings to ours.
When I asked her a few months ago what kind of party she wanted, thinking she would say "a Dora party Mommy," she said to me, "I want a wed party." Red is her favorite color. So, I tried to prompt her to something a little more specific than "red." I said, "Do you want an
Olivia
party? Or do you want red balls? Or a red cake?" Her reply, "I just want wed."
So, I began looking for ideas to put together a RED party. I did find a cute party idea online that used red balls and red and white decorations. Then I looked on
etsy
and found the cutest theme that just opened up tons of ideas for a fun party for children that are her age, as well as those a little younger or older. The party package was by Dimple Prints. They have a number of themes but I went with
Under the Big Top
. I loved the colors (a few more than red) and the "happy" feel that I got from looking at the decorations. The company edited the package with her name and age, sent me a PDF, and we printed and cut everything out. I can't wait to see how things look once the decorations are up Saturday. I thought I would share just a few things I've put together so far.
First, here's one of the signs that will greet guests as they turn onto our road. I'll have a few others staggered on the road advertising some of the "attractions" at our carnival, along with balloons tied to the signs.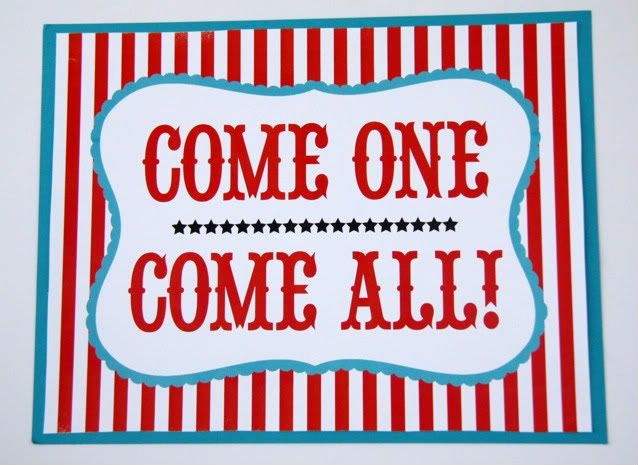 I also printed and attached favor tags to the bags of goodies that each child will receive at the party. Included in the bags are hand clappers, bouncy balls, and candy, candy, CANDY.
And what good is going to a carnival if there is no carnival food? In addition to the cake, we'll have corn dogs, popcorn, cotton candy, and lemonade at our "concession" stand. I was also going to have taffy, but decided to just go ahead and include that in the goody bags. My husband said the only thing missing as far as he's concerned is roasted corn. To him I say, I am only one woman and can do just so much honey.
As far as attractions, we plan to have a jump house, a couple ponies, and several little games for the children to play such as horse shoe toss and ring toss. I wanted face painting and a clown, but I had to give up on those dreams because I don't know anyone who loves me enough to put on full clown make-up and dress - for FREE - in 90 degree weather for two hours on a Saturday morning.
One last look at decorations.
I also used some of the printed tags and patterned paper from the party file to create a door wreath. I have it hanging on the door this week in celebration of SM's birthday.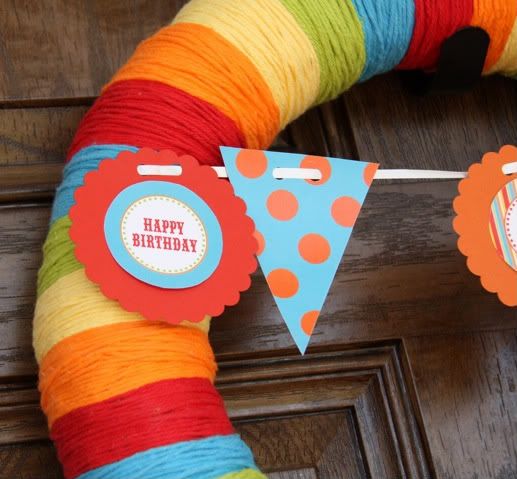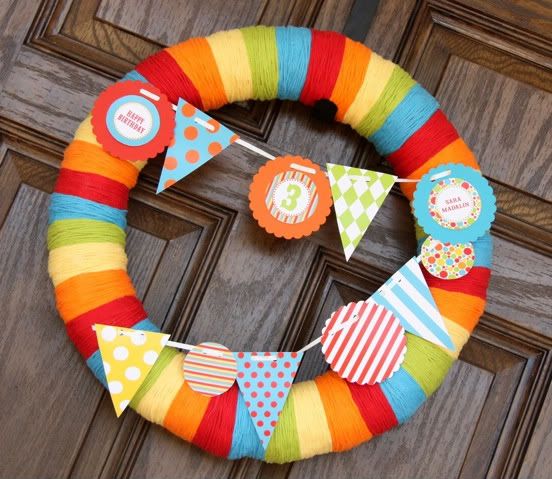 I just bought an 18 inch wreath form, a few balls of yarn, and hot glued the yarn around in small sections. Then, I glued the pennant to the wreath. It's very bright and cheery.
There's tons more of prep to be done, but I think we're off to a good start. Sara Madalin is going to love it, I'm sure. Actually, she's probably going to be less excited about the work we've put into planning and decorating for the party, and more excited to see all her friends and the ponies at our house Saturday morning. Reagan and I are most excited about celebrating the girl that changed our lives forever.
Warning: MANY more pics to come.