Our baby girl turns 3-years-old later this month. We have a very fun party planned here at the house. And if there is one thing Sugar loves, it's a party. I have been trying to shop, clean, and prep for the party. Reagan has been working on her birthday gift.
We knew that we wanted to get her a swing set. She's outgrown the Little Tykes slide and swing she has had for a couple years. So, Reagan looked into companies that construct heavy duty sets. We finally decided on the set that we wanted, and the crew came out and set it up for her today. She wasn't here, but I know she would have loved to watch this piece of machinery.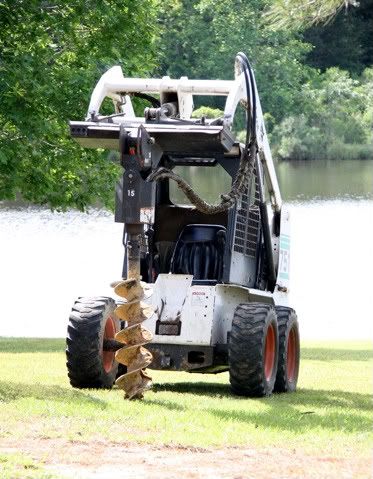 That is what they used to dig holes to place the posts in. I guess some might call it a post-hole digger.
Although I was busy with my glamorous life full of cleaning windows and mopping and waxing floors, I stepped outside every now and then to watch their progress. Here's the crew working hard.
She has a future playhouse area on the bottom. We'll probably get her a couple toy chairs and table for down there. There's also a climbing ladder that leads up to a fort and slide. There are two belt swings and one rocket swing.
Reagan didn't get off work until 7:00, and he wanted to be there the first time SM saw the play set. So, in order to keep her from noticing it outside that wall of windows we have downstairs, I had to close all the curtains and blinds.
It worked. She never even noticed the swing set until he got home and we led her outside. And she loved it!
Do you see that board right above her head at the top of the slide? It's there for a child to hold on to and steady themselves as they begin to slide. It's NOT for holding on to and swinging back and forth over the slide. At least that's what I had to tell her as she began to swing on it about 5 minutes after she started playing on the set.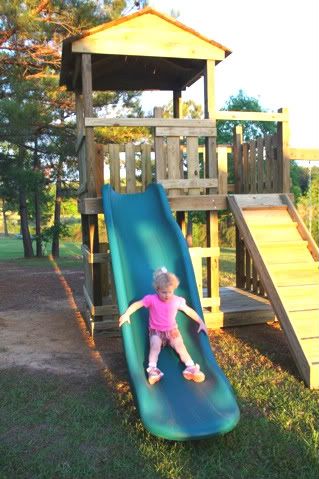 She was so sweet. Not long after she started swinging, she looked at me and said, "Tank you, Mommy." Just melted my heart. I told her she was welcome, and told her to thank Daddy too and she did. Although she has her moments, she really is a sweet, well-mannered child. It's not me, but somebody in her life is doing something right.
She played and played. She kept going from one thing to the other and saying, "Wook at me, Mommy! Watch me, Mommy!"
I took that last picture because it was at this time that she noticed the bars up above her. She saw them and exclaimed to me, "Wook Mommy, monkey bars!" If I was a betting woman, I'd put money on her finding a way up there before she's 4-years-old.