We are so very grateful for the home that God has blessed us with. But, I'll be honest, there are times we feel like we are never going to finish replacing and repairing things long enough to enjoy it. Adding to the maintenance and repair list we already had, the storm damage we have had in the past few months has given us quite a bit to keep us busy. After the first storm (that was labeled a "mega-burst" or something, but we really thought it was a tornado), we had to have our roof replaced. Then, it seemed that every week for about a month we had storms come through every few days, one of which was classified an EF-2 tornado. The rain was so severe and in such large amounts, part of our dirt/gravel road was washed away. Up until earlier this week, driving on it was enough to make anyone car-sick. A lot of the road washed away in several places and left deep holes that we had to drive around. And because it is a private road, and we currently only have one neighbor on this road, we were responsible for repairing it. Finally, the weather let up long enough for the road to dry out, and some new gravel was brought in for us last week. I wish I had taken a picture of the road before it was repaired. But I didn't. So, it's kind of pointless to show you "after" pictures. You'll just have to take my word for it that the road is so much better now.
I told you the road story to lead up to what I DO have pictures of. While the trucks were delivering and dumping gravel, Reagan thought it was a great time to also have some sand brought in to make a beach area in our back yard at the lake. I wasn't so sure about it, but I think it's going to turn out kind of nice. Now, I'm not saying I will ever get in that water. But, for Reagan and SM, and some of her cousins, I think they will really enjoy it. Reagan spent most of Saturday out there trying to spread out the sand and shape up the beach area.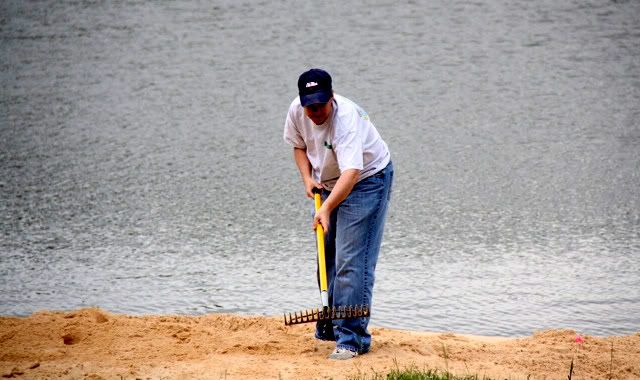 And there was no way that he was going to be out there in that sand and not expect some help from a certain little girl at our house. So I put her in some play clothes and she "helped" her Daddy.
In addition to the road repair and the beach sand, we also had our front walk extended to the gravel drive. SM has loved seeing all these trucks and tractors and other equipment. She and Reagan watched the concrete being poured for the front walk.
Trust me when I tell you, she asked a MILLION questions while they watched.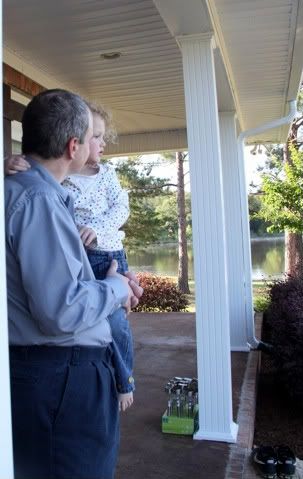 We are also having our upstairs air conditioning unit replaced. The unit is only 2 years old. As my Daddy would say, "If it's not one thing, it's another."
So much for any Disney trips this year.