In the last post I mentioned all the changes we were facing around our house. Potty training, no milk during the night, and trying to break someone from climbing into our bed in the middle of the night. I thought I would give a little update on our progress so far - because that's what it's been - little progress.
I started with the underwear on Tuesday afternoon. Sara Madalin was begging for a pull-up by the time her Daddy got home. But I stood firm and I didn't put one on her until she went to bed that night. And because she was still at daycare this week, she wore a pull-up while there. She did pretty good about staying dry. Her teacher told me that she went in the potty and not her pull-up. She was wet one afternoon when I picked her up, but it was only once. Now, accidents in panties are different. She's wet them every afternoon. I am still having to remind her about going to the potty most of the time. But there was one night I had gotten her into bed and we had already read and sang and I thought she was about to settle down and go to sleep but then she said, "I gotta tee-tee Mommy." So, we got up and she tee-teed. She does pretty good about staying dry in the night. She woke up wet one morning, I think. The first thing we do with her in the morning is take her to the bathroom. And tonight we chanced it and went to a restaurant with her in panties instead of a pull-up. She was dry the whole time and went to the potty twice while we were there. Still not completely trained by any means, but we're making a little progress.
Now, the milk. If the conversation I overheard her having in the back seat one day this week is any indication, she's not a fan of the "no milk after dinner" rule. I was driving and her DVD was playing, so I thought she was watching it. Then I overheard her say, "You not getting milk. You a big girl. You not a baby anymore." I looked back and she was talking to her baby doll. Those are the words I've spoken to her. I had told her that she was a big girl now and that she could only have milk at meals. Bless her heart. I'm guessing that made an impression on her, and she doesn't really care for the new rule. She's actually done pretty good with it. Better than I thought she would. She's asked for milk a couple times in the night. But it was more because she couldn't get in our bed than she actually wanted milk.
So, the sleeping situation? She is not happy about the sleeping changes. AT. ALL. The first night we were going to try keeping her out of our bed, I didn't let her have a nap that day. She was exhausted by bedtime. I had no trouble getting her to go to sleep. She slept until 4:00 and then came into our room. We had talked to her before bed and told her that she couldn't get in our bed - only the pallet or her bed. She had said she understood. But then the middle of the night came and she forgot any conversation we'd ever had. She wanted her Momma and that was ALL she cared about. I explained to her again that she couldn't get in our bed. We wrestled for a little while, then she laid down on her pallet. But she wanted me to sit beside her. Y'all, I don't think I've seen anything more pitiful than my baby girl laying on her pallet on the floor next to my bed, scooted just as close to my leg as her little body could get (I was sitting cross-legged next to her on the floor). All she wanted was to be close to me and I was forcing my baby to sleep on the floor. I wanted to cry. But, I stuck it out. She was asleep again by 5:00 and we all slept until about 7:00. She's gotten better every night. She still tries to get in our bed, but the time that we spend between her coming into our room and her actually going back to sleep has gotten shorter. She still asks for milk. When I deny that, she asks for "a sip of water." I've given her that and I think she'll get past that too. I think she's just trying me to see exactly what she can get away with.
One other tactic she's tried to use in order to get in our bed is telling me she's cold. We have a stand-up air purifier in our room. It sounds and feels like a fan. We like it (all 3 of us) because of the noise. It helps us all sleep. But Thursday night, when she wanted to get in our bed, she told me, "I'm cold Mommy. I weel-wee (really) cold." I wanted to scoop her up and let her lie under my cover with me and go to sleep next to me. But, it wasn't cold in there, and I knew it was just her trying to push her boundaries. I covered her up really good, kissed her head and told her to go back to sleep. She did.
It's been a pretty tough week emotionally. I am torn between wanting her to be independent, potty-trained and mature for her age - and wanting her to stay my baby. She told me one day this week that she didn't want to be a big girl. I told her that sometimes when we're growing up, we have to do things we don't always want to do. I told her I want her to be my baby forever, but that she can't go to school until she can be a big girl. I want her to grow up and I'm so thankful for her health and intelligence, but I do want my baby to stay a baby.
The thing that got me most this week was when she looked at me and said, "I growing up Mommy." I took her little face in my hands and said, "Yes, baby, you are. And it's almost more than Mommy's heart can take. But I love you and I am so proud of you." She just smiled and was off to playing again. I seriously don't know how I am ever going to make it through all these milestones she is going through and will go through.
In addition to all the things going on at home, she had another milestone in her life in regards to daycare/school. It was her last week at the daycare she's been at for the last year and a half. I don't think she understands that yet. We've talked about it, how this would be the last time she would see Mrs. Sheila and Charlie and all the other kids. I feel pretty certain at some point in the next few weeks she'll ask about them again. Even though I wasn't as sad as when she left Mrs. Gail's, I was a little sad about her saying good-bye to her friends. These are the children that she's learned her alphabet and numbers with. They are the children she's learned to co-play with. They've grown into little people together. By August, she won't remember them, but I will remember this time in her life.
I took a couple pictures of her so she could remember her last day with them. Here she is with her most recent teacher, Mrs. Sheila.
And one last picture with her buddy, Chah-wee.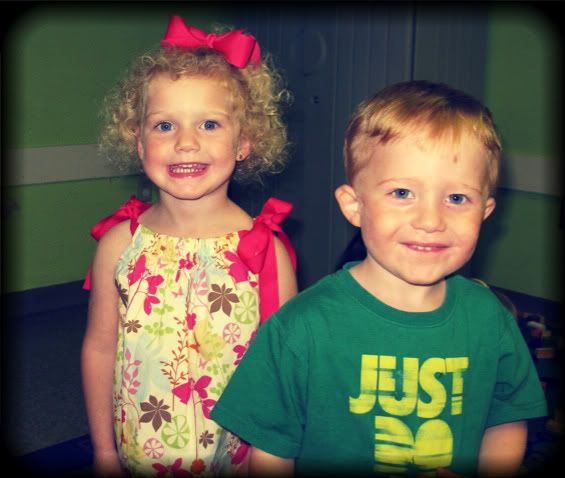 Right before I took this picture, she said to me, "Chah-wee is my fwiend." Now, he's not her "best friend." That would be someone named Will-wee (Lily). We saw her as we were leaving one day and SM blew her a kiss. I asked who that was. She said, "Dat's Will-wee. She's my best friend." Sometimes she says and does things like that and I just want to eat her up.
So, that's the gist of our week. At least what is worth sharing. Next week is dance camp, swim lessons and lots of play outside. And hopefully dry underwear and full nights' sleep. I'm keeping my fingers crossed for those last two.