This past Saturday afternoon, Reagan got out Sara Madalin's slip'n slide. I had picked her one up when I was shopping last week, not yet sure if she would like it. Here he is setting it up under the watchful eye of the one who will play on it.
She couldn't quite get the concept of running, then sliding down the mat. She just walked over to it and laid down under the sprinkling water. For her, that was enough.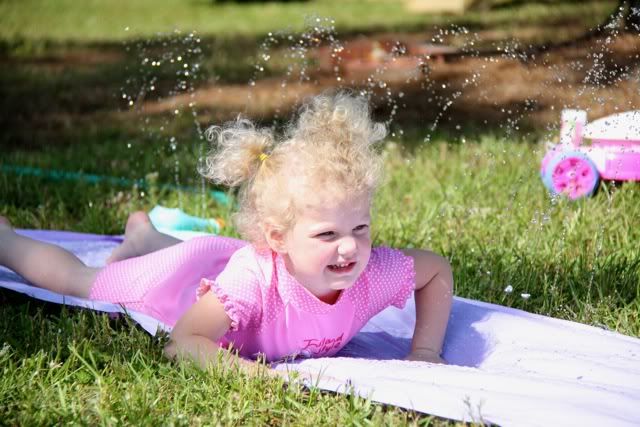 Finally, she went to the end of the slip'n slide, where the water was pooling, and played there for awhile.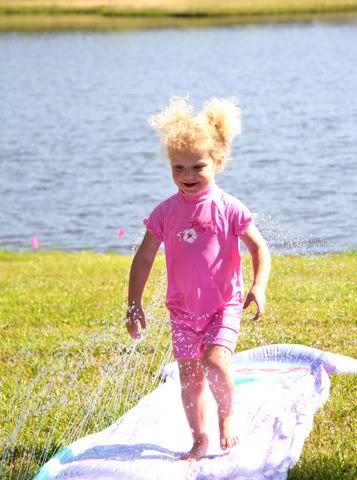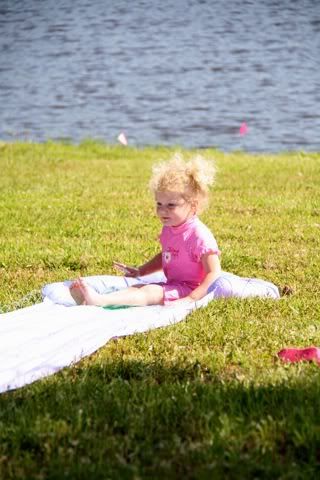 All that fun - and water - caused her pants to slip a bit. I thought she looked funny trying to pull them back up.
She played quite a while in the water. But no matter what she's doing these days, she always comes back to her swing and slide. When I saw her standing at the top of her play set looking out at the yard, I had to take her picture. She loves being up high where she can see everything.
She loves being outside and I'm sure that our Summer will be full of outdoor play much like she had this past Saturday afternoon.
(NOTE: The pink flags that are in some of the pics are stakes that Reagan used to mark off an area near the lake. I figured someone would notice them and ask me what that was.)