My 20 year high school reunion was this past weekend. There was a small get-together Friday night for classmates, a picnic for everyone and their families on Saturday, then a sit-down dinner Saturday evening. I was only able to attend the Saturday evening dinner. I knew we'd be out late, so I asked Susan if Sara Madalin could spend the night with her. She and David had already planned to go to his parents' house this past weekend to help them with a fish fry they were hosting. But they said SM could go with them if we didn't mind. It's been awhile since she's spent a night away from us, but we agreed to let her go.
We got up Saturday morning and did a few things around the house, then got ready to take Sara Madalin to Susan's. I put Sara Madalin in a pair of shorts and monogrammed t-shirt because I knew she'd be outside playing most of the day once they arrived at David's parents' home.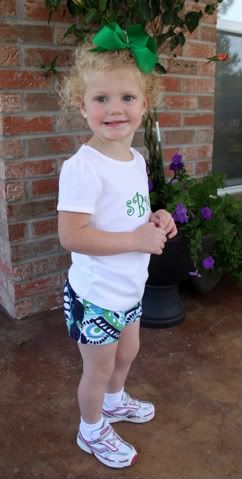 When Reagan saw her, he said, "Those shorts are pretty short." I said, " I think it's more that her legs are so long." She looks like she's 4 or 5-years-old in that picture.
After I took that first picture, she decided to do a few poses for me. This is her favorite pose - hands on the knees and bent forward.
Oh, and I wish I had videoed her running. (I think Reagan may have. I'll post it if he did.) When I put those "gym shoes," as she calls them, on her, she said, "I run fast Mommy." And then she started running and swinging her elbows side to side. It was cute and funny.
After our little photo shoot, we took her to Susan's and they headed north. I'm not going to talk about potty training in EVERY post, but I do want to give one little update. She wore underwear all morning and then to Susan's. She stayed dry and even told us when she had to go potty. She wore a pull-up on the drive north. Susan said she was dry when they arrived and pottied when they got there. She only had one accident Saturday and none Sunday. We were sitting here a few minutes ago and she went into the bathroom un-prompted, pulled her pants down all by herself and went to the bathroom. I think she is going to be potty trained pretty soon. I'm so proud of her. And she is proud of herself.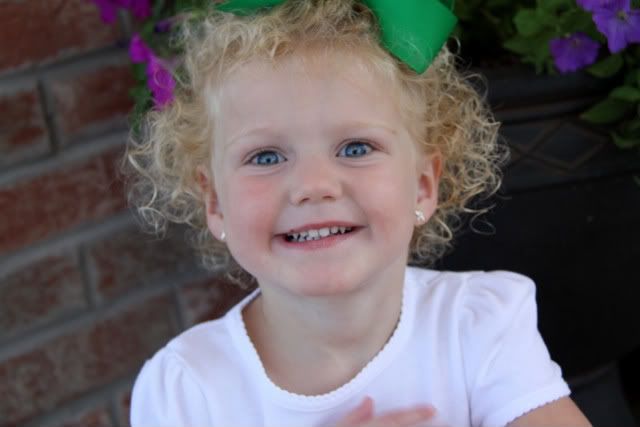 While she was away, Reagan and I had a chance to go to a movie, then on to my high school reunion. It was nice to have some adult time alone, but we both missed her terribly. She did pretty well being away from us over night. Susan said she slept on a pallet next to their bed and slept all night. It was so quiet at our house Sunday morning and we got ready with quite a bit of time to spare. We met them for lunch after church and picked her up. I think she was pretty happy to see us. I know I was happy to see her. I'm glad she enjoyed her night away, and I'm glad she is home with her Mommy now.