Sunday was Mother's Day. It would have also been Reagan's mother's 76th birthday. We've known for several weeks that it would most likely be a difficult day for Reagan's dad, so we, along with Susan and her kids, planned to attend church with Mr. Brown. Sunday morning, while I was getting ready to leave, Reagan was in the kitchen with Sara Madalin and he told her we were going to church with Papaw. She said, "He sad? He miss Mamaw?" (We have not mentioned to her that he's been sad, or really dwelt on Mrs. Brown's passing with her.) Reagan was surprised when she said that. He said, "Yes, he misses Mamaw." She said, "I miss her too. She's my Mamaw." He said to me later that he was just reminded how much SM does comprehend and how much she does pay attention to us even when we don't realize it.
Anyway, we all got ready to head south to attend church with Mr. Brown. Before we left, I asked Reagan to take a quick photo of me and SM. Since my 1st Mother's Day with her, we've taken a picture together on Mother's Day. I hope it's a tradition that we continue for many years.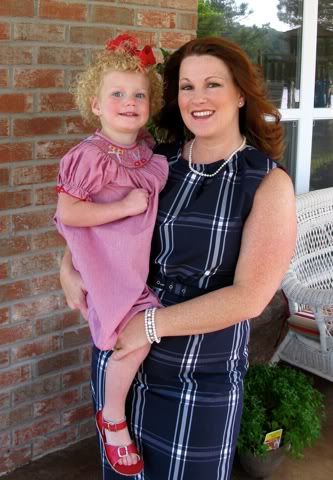 When we arrived at Mr. Brown's, he had a corsage for each of the girls - Susan, me, Mandy, and Sara Madalin. It was the first time SM had been given flowers. I'm sure that I'll keep that little corsage for a very long time.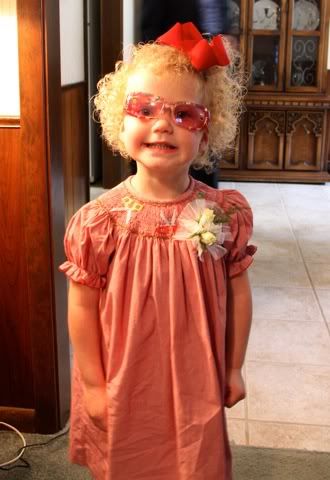 Mr. Brown really wanted us all to sit together in church. SM has never attended a full "big church" service before. She's usually in the nursery at our church. We weren't sure she'd behave for us through an entire service. But, I told Reagan we'd try it and if she started acting up, I'd walk outside with her. Let me just say, that baby girl surprised us all. She did move around a bit at first, but she was so well behaved during the whole service. I was such a proud Mommy.
During the first part of the service, they have the children come down and sit for a children's message. I told Reagan that we wouldn't call attention to it and maybe SM wouldn't notice that the kids went down there. Well, Sue-Sue was holding her and mentioned it to her. So, when it was time for the kids to go down, Reagan took her down there. He let her walk up to the front and sit with the other kids, and he sat on the 2nd row in case she acted up. She sat down and paid attention like she does it every week. (Have I said lately how proud I am of her?) Although she is still in that stage where she struggles with giving into her curiosity and wanting to explore, she is showing me more and more that she is growing up and maturing into a child - not a toddler much longer, but a child. When I saw her sitting up there with the other kids, I just wanted to cry. I'm so thankful and proud to me her mother. (Oh, I said that already, huh?)
She came back to sit between her Daddy and I during church. She wrote some. She traced my hand a couple times onto a piece of paper. I traced her hand. She dug everything out of her diaper bag - quietly. And she played with some play-dough she found in her bag. But she was quiet and sat fairly still for us the entire time. No talking. No tantrums. I told her several times how proud I was of her and what a good girl she was being.
After church, we went to a local restaurant that we always enjoyed going to with Mrs. Brown. The wait was a little longer than normal, but we anticipated that and had brought some snacks and toys for SM during the wait. The restaurant is set in an old home with lots of greenery and trees and flowers around. It is what I think of when I picture true Southern homes and yards. The yard is big, which was perfect for SM to run and play. I did manage to get her to sit for a picture or two for her Mommy.
And here's everyone (minus the photographer) before leaving the restaurant.
We really missed Mrs. Brown. It was a beautiful day with family that she would have loved. She always looked forward to time we could all spend visiting together.
We went back to Mr. Brown's for a little while. Then, later in the afternoon, we went to the cemetery to place flowers on a few of the family graves. I took SM for a quick drive and she fell asleep. Then we headed home for a little back yard play to end the day. We had a really great day and I enjoyed spending it with my sweet husband and angel-girl.