Saturday morning we went to a birthday party for Sara Madalin's friends from church, Mollie and Tripp. They are brother and sister. Tripp is in SM's Sunday school class and just a couple weeks older than SM. Mollie is a year older. Their mom, Mary, and I knew each other growing up. Mary was a year or two older than me (and I guess, she still is) and went to a different church. But we had mutual friends and saw each other at church camp and other district-wide church events. We didn't know each other well, but did remember each other when our family started going to our current church. I remember Mary was always fun to be around. From what I can tell, she hasn't changed. She's still funny and I have enjoyed renewing that friendship. I'm also happy that our kids are now growing up together and enjoy being around each other.
Back to the party... It was held at a local Chuck E. Cheese's. That place was WILD! And like most other mothers, all I could think about was the germs that must be all over the place. But the kids enjoyed it. And really, that's all that mattered. SM started off the morning by riding the horsey.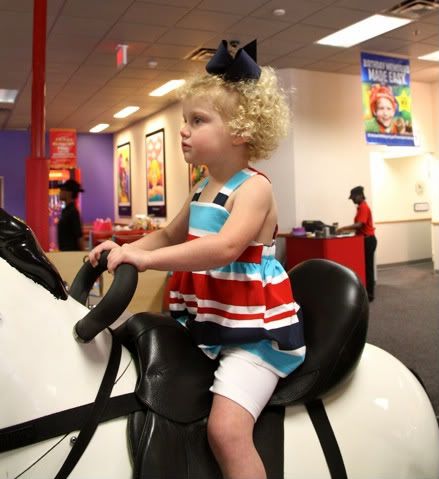 She "played" a few games as well. And by play, I mean that we put a token in the machine, then she walked away as soon as the game started because there was TOO MUCH TO SEE AND DO!
Then she took her shoes off (cause that's safe in a place like this) and climbed through tunnels and looked out the windows at her mother who was helpless below, should she get stuck, or bullied, or fall in to some sort of trouble. Maybe I'm being a little over-protective, no?
Her brother Tripp. He was wearing his birthday party hat. And keeping a close eye on Chuck E. Cheese. Tripp wasn't so sure about that 6-foot mouse he saw dancing just a few feet from him.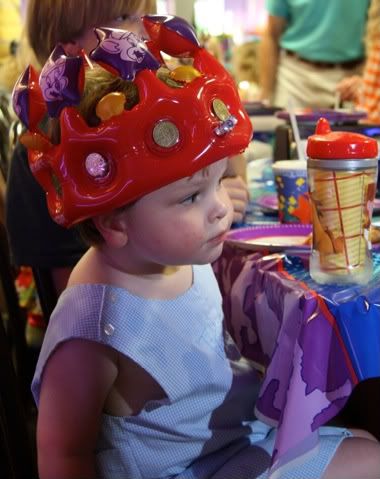 Then we decided we'd let Sara Madalin give it a try. We all thought, "She, of all children here, would not be afraid." We were wrong. As soon as they put her in there and closed the doors, her lower lip started trembling and she looked at me and said, "I need you Mommy."
She did get a prize with her tickets she won playing games. A prize that she has "scared" Mommy with all weekend... a plastic toy snake. I suggested she choose a couple plastic bracelets. She INSISTED on the snake. Yep, birthday parties are BIG fun for our girl!