Sunday night, our children's choir performed the musical, "Under God's Sea - 3D." Rather than it being held at our church, the kids got to perform at the performing arts center of a local school. We thought SM would enjoy watching some of her friends sing, so we took her to watch the musical. I got a quick picture of her outside before we went in to watch the program.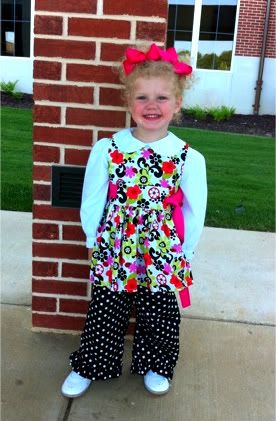 I'm pretty sure someone will ask, so I'll answer now - I didn't make her outfit. I bought it at from a shop called Sassy Britches. They have a website and have some really cute outfits for little girls. I wanted to buy one of everything I saw. And wouldn't you agree, she certainly is Sassy in those britches.
Part of the program was in 3D, so we were given glasses as we entered the theater. Here's our girl modeling her "gwasses" right before the program started.
The musical was really cute. Sara Madalin was pretty good during most of it. She and I did leave during the last couple minutes because she was restless. I thought she didn't really pay that much attention, but as we were driving home, Reagan started asking her questions about the program, and she was able to re-tell most of the story. She's so funny telling us, "Jonas, he in da ocean. And jell-wee fish dere. And da big whale came and he get scared. But my Jonah at his house."
We enjoyed the program and I can't wait to watch a program like that where our baby girl gets to sing too.
Correction: I was mistaken on the name and website for the outfit. I rechecked the label attached to the outfit and it is
www.smartiebritches.com
.