Monday evening, Sara Madalin and I went to see Jessa, the daughter of my friend Penny, dance in her end-of-the-year recital. She has danced since she was a little thing, and is now about to be a Sophomore in high school. I can't believe she's old enough to even be in high school.
As is our nature, we got there just in time to find Penny and get our seat. Oh, and take a couple quick pictures. Here's SM with Penny.
Penny didn't tell me until I was there, but she also danced in the recital. She clogs. But her part in the program wasn't until the last act. SM and I didn't even make it through the first act. So, we didn't get to see Penny perform. Hopefully we will next time.
Here's me and my girl, who was very well behaved with the exception of one meltdown. And it really wasn't a meltdown. She wanted to play a Mickey Mouse video on the phone after we were told to turn off our phones. She didn't understand why she couldn't watch the video with the volume turned all the way up. But she settled down and watched a little dancing instead.
It was about this time that two things happened. One, I noticed an empty Corona bottle under my seat. (We were in the auditorium of the junior college campus where Penny and I were roommates about 20 years ago.) I'm hoping it wasn't Penny's. And two, Penny's brother came and sat down. He has facial hair. I think I've mentioned Sara Madalin's feelings about facial hair. Immediately she declared, "I not like him." and buried her head in my neck. So, I could have ended the night right then and there and had enough drama to blog about. But we stayed. I mean, we were there anyway, might as well.
I didn't take many pics of the dancers, but I did snap this one really quick because these little girls are the age Sara Madalin will be next year. Hopefully, she'll take dance starting in the Fall.
Here's a shot of Jessa and the older girls dancing. They were tap-dancing to a hip-hop style song about
lip gloss
(if I remember correctly.) I was very impressed. She is a great dancer. SM was fascinated by the one red glove they all wore. Jessa is in the middle row, left side. She has her right hand in front of her chest. I loved watching her dance.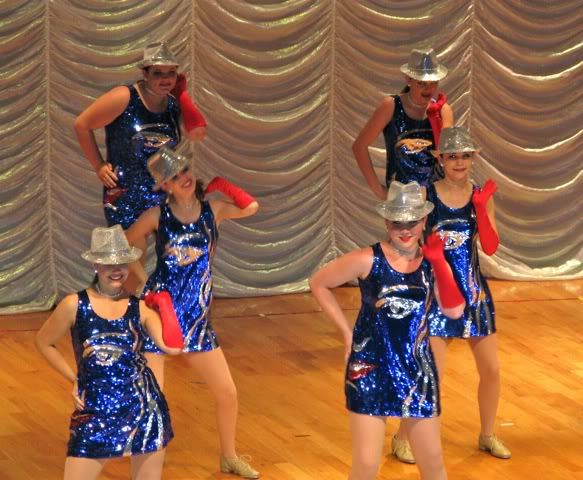 We watched a few more dances before leaving. At one point, the girls came out in gold-sequined dresses. When they came out on stage, Sara Madalin said, "Ohhh." Penny and I just laughed at her.
When we got to our car, after carrying all 30 pounds of her while she asked a million questions about what she had seen, I was buckling Sara Madalin into her carseat, and she said, "When I be a big girl, I dance wike dat Mommy." I said, "You sure can baby." Then she said, "Can I wear a wed gwub?" I said, "Yes." She said, "Can I wear two of 'em?" I said, "If that's what you want baby." More than once since that night she's mentioned those red gloves.
She doesn't know it yet, but our church has a 1/2 day dance camp scheduled every morning next week for children 3 and up. She's been registered for it for about a month. I can't wait to see how she likes it. If I was a betting woman, I'd wager that she asks about a pair of gloves before the week is over. If anyone knows where I can find my baby a pair of red gloves, please let me know.