I was so happy to see the weekend by Friday evening. I just wanted to relax and spend time alone with my family. I am so thankful for them and so blessed to have them. As frustrating as Sara Madalin is, I am so thankful there is ONE of her and that she is who she is. And I seriously don't know what I would do without Reagan sometimes. When I'm stressed or discouraged, he always helps me see things from a different perspective. I was so happy to spend some time relaxing with them this past weekend.
Friday night we enjoyed dinner together, then came home and spent a little time outside before going to bed early. I once thought people who stayed in on Friday nights and went to bed early were boring. Now I know they were just dog-tired.
Saturday we all went over to Susan's to play in the pool. We just relaxed floated until around lunch time. It was relaxing and very much needed.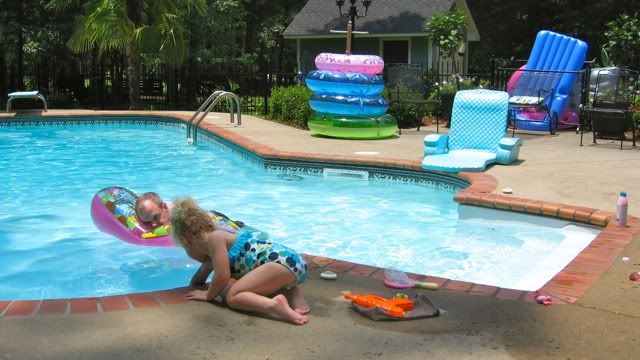 After lunch, we sat around at Susan's for a little while longer visiting with them. We came in when the rain started. We headed home late that afternoon. SM slept on the way home. I may have also dozed off as well.
He's not very big, as you can see. But when you are afraid of small creatures, it's a bit scary to run across him as you're walking around your yard.
Reagan has enjoyed several tomatoes from this plant. It is also starting to bloom quite a few more plants as well.
Our strawberries are also producing quite a bit. The problem with the strawberry plants is that for every strawberry Reagan gets to enjoy, the birds eat the next three. I've already decided that next year, I'm going to set out more plants, and some different plants as well.
We enjoyed a wonderful morning of fellowship and worship at church on Sunday morning. I was reminded how much I enjoy the people in our Sunday school class and how grateful I am for those that God specifically placed in our lives these past couple years.
We have a few things planned for this week, but nothing as exhausting as last week. I can't wait to see how SM enjoys her first visit to the library a very fun play date with one of her little friends. We are really enjoying our summer together so far.