I am SO proud of my baby girl! She has done so well with her first week of heavy potty training. We created a sheet listing each day of the week. Each day, each time she went in the potty, she got a smiley face. Each time she had an accident, she got a frown. If she did #2, she got 2 smiley faces in the appropriate box. Here she is Friday afternoon with her completed sheet.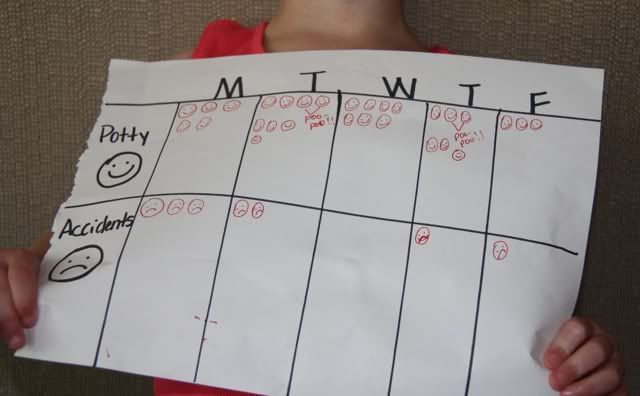 She had two accidents on Monday and Tuesday. She didn't have any accidents on Wednesday. Then she had one each day on Thursday and Friday. She pooped in the potty for the first time on Tuesday. She's not a big fan yet, but every time she does it, she looks at me and says, "I pooped Mommy." And I tell her, "I know baby. I'm so proud of you. You are such a big girl!"
She's proud of herself too. We were at my sister's (Brandi) house today, and she, Reagan, and I were all outside. She looked at me and said, "Mommy!" That's her way of telling me she needs to go without actually saying it. I've learned the tone of her voice and the look on her face. So, I scooped her up and took her inside really quickly and she went in the potty. We walked back outside. Brandi's father-in-law had arrived and was out there. He jokingly said to SM, "Now, what's your name?" She replied, "I poo-poo in the potty." He just looked at me very surprised. I had to explain to him that it was new to her and she's proud of herself. He said, "And she should be."
She's had no accidents since yesterday afternoon. And she traveled all the way to and from north Mississippi, 4 hours one way, without having an accident. Now, we stopped about 6 times because she told me she had to potty, but never did. But she made it with no accident. She's only wearing a pull-up at night and I'm so very proud of her.
I'm sad she's growing up. But I'm proud she's becoming such a smart, big girl.
And hopefully, this is the last potty update I'll give.