We had a really fun weekend with a couple of events that we all enjoyed. But first, Friday night, Reagan and I had a much anticipated, and much needed, date night. We love our baby girl, but sometimes we need some adult-only time. So, we asked her Tuesday evening sitter to come "play" with her Friday night while Honey and I went to a movie. I think she had a great time. I texted one time to check on them and the reply I got was, "Sorry it took so long (to answer), we were dancing." Have I mentioned how much we LOVE our sitter? And so does Sara Madalin. Usually, when I leave her lately with anyone, she is really clingy to me. Not when Amber shows up. She (SM) runs to the door and forgets all about me.
Saturday morning, we got up and dressed and headed to the nearby Tomato Festival. It's always the last Saturday in June and I've written about it every year since SM was born. I have to say, as far as lay out and organization, this was the best festival we've ever been to there. We didn't buy anything except food, but we really enjoyed walking around and seeing people we don't often see. One thing we didn't necessarily enjoy was all the politicians. It was VERY clear that this is an election year in our state. And wouldn't you know that one of them had a dog. Sara Madalin will drop everything to love on a dog. Let me just say, her petting this dog in no way means that we support or oppose this candidate. Our girl is JUST loving on the dog.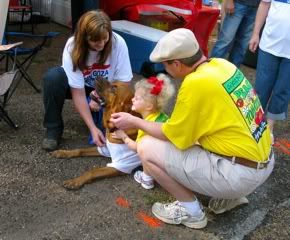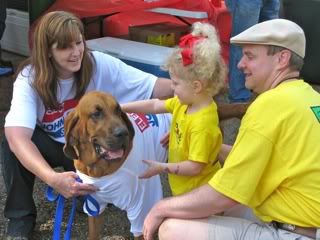 While we were standing there, cousin Audrey Claire and her Ree-Ree came up. She had her shades on too, just like SM. So, we took a quick picture.
We later saw her Mommy and Daddy and baby brother. At the time I took this picture, they were all inside under air conditioning.
But who needs air conditioning when you can have a cup of colored sugar water and ice instead? That's what SM prefers. Her whole mouth was blue when she finished this icee.
Each year there is a Midianite (sp?) family that sets up a trailer and makes home made ice cream. It's so hot at times that they can't keep enough made to keep up with the demand. So, we've learned to get in line early. While we waited on some "choc-ate" for our girl, she and her Daddy watched the ice cream makers churning (or freezing or whatever the correct terminology is) the ice cream.
Sara Madalin went crazy when she saw that little sleeping baby. We tried to get Audrey Claire to let us take him home, but she said no.
As I said, we bought food. Both food to eat there, and food to take home. I don't know why I didn't think to take pictures, but we bought and carried home one Smith County watermelon (that has been so good), 30 ears of corn, 5 tomatoes, and a big bag of peas to shell and put up.
We enjoyed ourselves and after a full morning, we headed home for a nap and then later went out to a baseball game. I'll have those pictures in my next post.