I've seen several bloggers lately posting about mobile photos they have saved on their phones. So, I looked back at mine and found a few that I had never posted.
First, here is SM working with Ms. Amber at City Drugs. She likes to help Amber count the drawers down when we visit Daddy at the store.
This next photo is from early May. Reagan and I went to the Canton Flea Market. The flea market is kind of like a carnival when it comes to food. There are booths all over the place. He had asked our friend, Jana, who is in charge of vendor approval for the market, if there would be anyone selling roasted corn. Her reply to Reagan was, "What do you think this is, the fair? Of course there's not roasted corn." Lo, and behold, we found someone on the back lot of the market selling roasted corn. He wanted me to take a picture to show her that she was wrong.
This next picture I snapped one afternoon while I was cooking. SM was in the living room watching a TV show. I looked over and she had a basket purse on her head, like it was perfectly normal. It's moments like that that make me wish I could just bottle her up and eat her.
And this is the one picture I have of her and her dance camp teacher a few weeks ago. Miss Anna was so patient with her.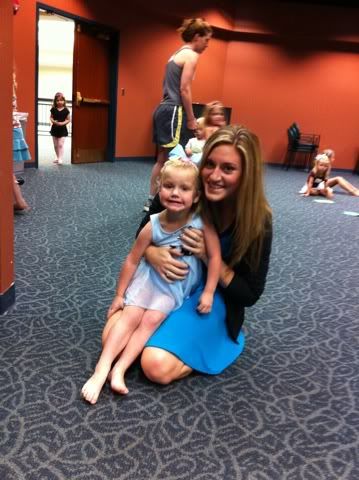 This was a photo I took one Sunday night after church when we met Jana for dinner at a local pizza parlor.
Reagan's aunt passed away last weekend. She was Mrs. Brown's last living sibling. We were getting ready to go to the funeral visitation last Friday night and SM thought she was going to wear this. In case you can't see it clearly. She's wearing a t-shirt, a pair of underwear, boots, and a duffle bag full of toys. I took the picture and sent it to her Daddy so he could see what we'd be dealing with in about 10 years.
And the last picture is from this past Friday night. She was ready to open her "surprise" that her Nana sent for her birthday. It was all I could do to get her to pose for ONE picture for me before she tore into that package.
That's just a few of the pics on my phone from the last several weeks. They still make me laugh.