This week we attended VBS at our church. I helped in one of the 5-year-old classroom and Sara Madalin got to attend in the 3-year-old class. The theme was "Big Apple Adventure" and New York was our "destination." On Monday, the children made a craft that was supposed to look like a NYC skyline. The "windows" spelled the word FAITH. Here's Sara Madalin's version.
I have to say one thing about VBS - it is pretty exhausting for all involved. Sara Madalin passed out on her Daddy Monday night around 7:30 as they watched TV on the couch.
Traditionally, only children of VBS workers are able to attend if they are 5 and under. This year, I think a few more than that attended, because our class alone had about 20-22 children every day. It was WILD in there. We had three adults and 2 youth workers in our class, in addition to the children. Here's our class door with all the "apples" on the door.
VBS began at 9:00. At 9:15 we had assembly where all the classes in the preschool department (ages 2-5) got to come sing and hear our Bible story for the day. We also got to see a puppet show each day while there. There was somewhere around 200 children the first day. I'm not sure how many attended for the week.
Here's SM on our way out Tuesday. There was a blow up Statue of Liberty at the entrance to our preschool department. She wanted her picture taken with the statue. She posed all on her own.
Wednesday I took a few more photos of her. Here she is "in" a taxi cab cut-out that was used as decoration.
I took a few photos during assembly. Here is a picture of the kids singing.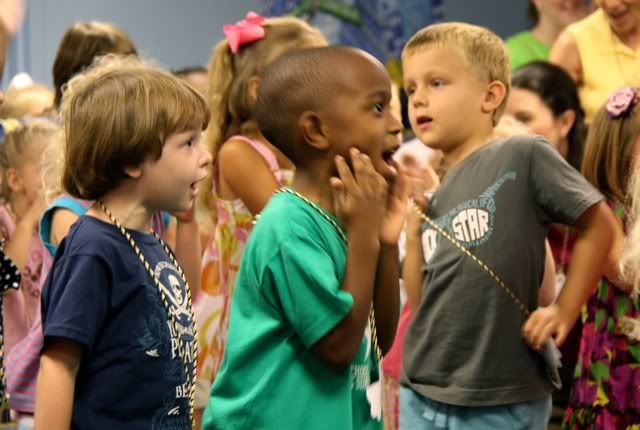 Friday morning I got a few last pictures. Here's Sara Madalin with Miss Callie during assembly time.
Each year, we collect offering for a mission project. This year we collected money to help build houses in Haiti. The boys and girls compete to see who can bring the most money. If the boys win, they get to silly string a certain teacher. If the girls win, they get to silly string Mrs. Kandy, our preschool director. The girls won. This is Mrs. Kandy after a few cans of silly string were unloaded on her.
I love VBS. I always have. I look forward to it each year. I have taught or helped in VBS since I was a youth. I've taught missions, and elementary age classes, and even helped with crafts. This year was my first year to work with children under 6-years-old. God taught me a lot this week about myself and I think it's safe to say, I'm not called or equipped to work with preschool age children.
I'm thankful for the opportunity to serve this week. And now, I'm thankful I have a weekend to rest after VBS 2011.