Sara Madalin and I made her Daddy a very special gift for this Father's Day. First, I took a pot that I found on sale at Hobby Lobby. Then I taped some photos from this past year of the two of them to some green painted dowels. I glued a round foam ball in the bottom of the pot, then stuck the green dowels into the ball. I added some shredded green paper on top of the ball, and voila - a very special flower arrangement for Daddy.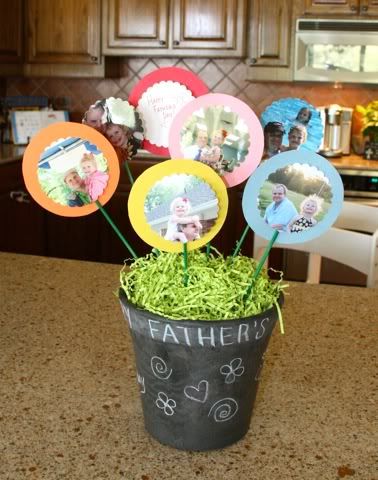 Sara Madalin signed the "Happy Father's Day" flower all by herself.
We decided we'd take it to him this morning at work. But, when we got there, she was quickly distracted by the robot. She loves to watch it fill scripts.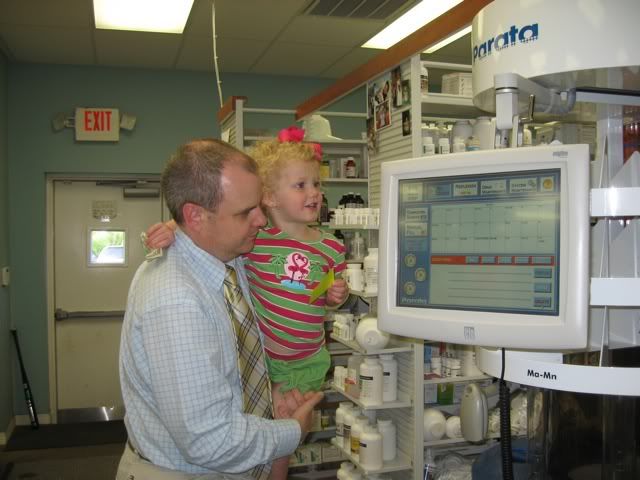 Finally, she remembered why she was there and posed for a picture with her Daddy before we headed off to run our errands for the day.
She loves her Daddy. And he is the best Daddy I ever could have asked for for our child. He is very patient with her (and her Momma). He teaches her about so many things. I think that he's so good at teaching her new things because she is so much like him in that area. She is curious about EVERYTHING. And she is so smart. He's taken those qualities and really used them to educate her in ways that I'm not sure I could have. When she asks him a question, he patiently explains the answer to her. He's taught her what red, green, and yellow lights mean. He's taught her the difference between a penny, nickel, dime, and quarter. He's taught her how to spell her name. But more importantly than all those things, he's taught her that she is special. And that God made her that way.
Sara Madalin and I are both so thankful for her Daddy. I know God picked him specially for both of us. Happy Father's Day to Sara Madalin's Daddy!