Saturday we traveled to Kosciusko, MS to watch my nephew, Elijah, play in a baseball tournament. He was scheduled to play at noon, but the game was rained out. So, we arrived in time to catch the next scheduled game. We picked up an extra car rider on our way to the game, his little brother, Jeremiah.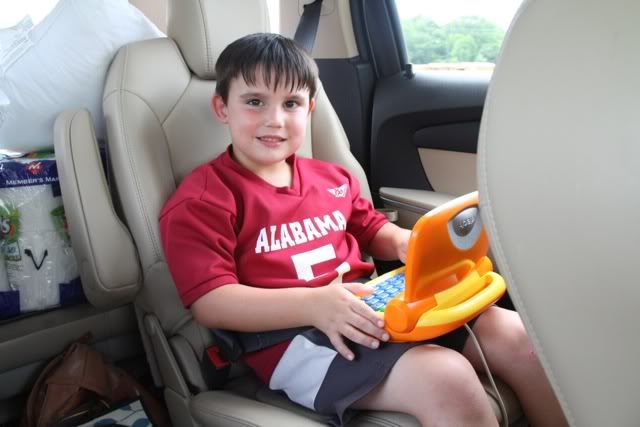 I only posted this next picture to show that Sara Madalin's mommy has a lot to learn about how to dress a child to attend a baseball game. Especially when there is so much dirt and mud to play in. She only wore this cute little outfit for about ten minutes before we realized she needed to be changed into play clothes.
After she was changed, she forgot all about the baseball game going on in front of her, and could only focus on all the fun dirt to play in.
Jeremiah, on the other hand, was very focused on the game. He cheered and got excited with every play.
Because of the weather, and the fact that SM had not yet had a nap, we only stayed the game for about an hour. We hadn't pulled out of the parking lot good before she fell asleep.
On the way home, we traveled through the town where Reagan's family lived when he was born, Durant. I would have liked to have driven around some and taken pictures of the town, but we didn't have much time to explore. We did take time to get a few shots of the school where his dad and mom worked for a few years during his childhood.
He told me he could remember playing in the yard across the street and seeing those round windows in the doors.
Even though it was brief trip, we enjoyed seeing my sister and her family and watching Elijah's team play baseball. It reminded me of the few summers I played softball as a teen. Maybe one day I'll be in the bleachers watching a child of my own play. Although "play" is going to have a slightly different meaning to her than it does to a softball coach. I mean, have you seen how much dirt there is on a baseball field? That's a ton of distraction for our little girl.