Just as we've done every year since SM was born, we attended the Balloon Festival in nearby Canton on the Saturday before July 4th. I've looked back at the posts from
2008
,
2009
, and
2010
, and it is so sweet to see how my baby girl has changed through the years. This is her right after we arrived Saturday afternoon.
The first thing she did when we set up was take off her shoes. There's just something about an outdoor Summer festival that begs for you to go barefoot.
Every year we've taken a picture of SM and Jana. It's tradition. As soon as we arrived Saturday, SM started asking, "Where's Jana?" These two girls love each other.
There was one extra large balloon at the festival this year. It was shaped like a space shuttle, but at least two to three times the size of it.
Sara Madalin and Reagan went out and watched some of the balloons being unloaded and set up. He said she had a million questions. Here she is sitting and watching some of the balloons.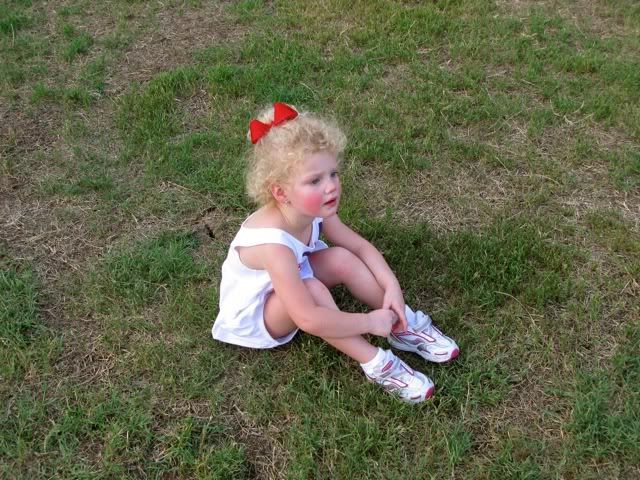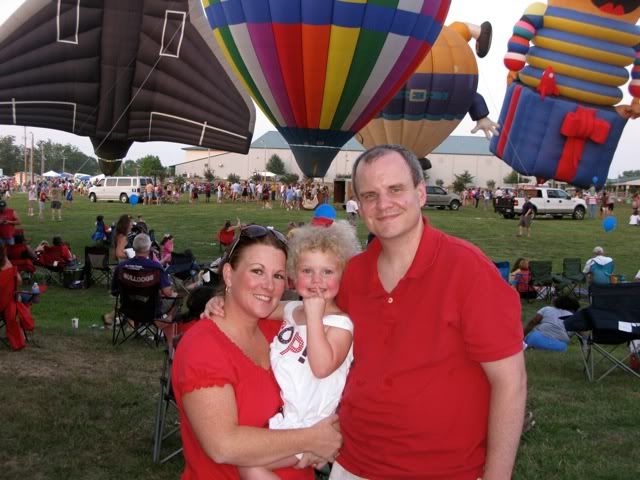 We thought we would finally be able to stay until 9:00 and see the fireworks. We almost made it. But around 8:30 she started telling us she was getting sleepy. Here she is sitting in her chair sipping on some water. She was fading fast on us.
We had already put most of our stuff in the car so that we could just pick up our chairs and and go after the fireworks show. That baby was so tired, she went and got one of the bags that holds our folding chairs, and spread it out on the grass to lie down on. We decided we'd go ahead and head home.
We enjoyed another balloon show and also enjoyed seeing Jana. Maybe next year we'll make it until the fireworks show.