When I was trying to think of a title for this post about the routine SM and I have fallen into this summer, I remembered a joke my friend Jana and I had a few years ago. So, no one will get the true meaning behind the title for this post but she and I. But that's ok. There are a number of things that we say to each other that only we get.
So, in case you haven't noticed, news is pretty slow around here this summer. SM and I have a routine that we seem to follow each week. And we're ok with it. I'm often reminded of our first summer with her. I remember how every day seemed to be the same with a newborn. I told Reagan one day that summer, "My life is lived in 3-hour intervals." It seemed every three hours, I was just beginning another cycle of our routine of feeding, playing, and sleeping. I'm in no way complaining about routine. I love to have organization and routine. But it doesn't make for many exciting photographs and blog posts.
This summer our routine is pretty much as follows:
Monday
Gym - I run, she plays with Ms. Elaine and Ms. Mary

Grocery store - I shop, she drives the car

Lunch

Rest

Play

Dinner
Tuesday
Gym

Library

Lunch

Rest

Miss Amber comes to spend the afternoon and I run errands
Wednesday
Park

TV

Lunch

Rest

Swim Lessons
Friday
Play dates/Errands

Lunch

Rest

Play until Daddy comes home
Saturdays & Sundays
Errands and usually swimming at Susan's

Church on Sundays
See, not much to write about. But are enjoying ourselves. I feel like this will be the last summer that we have where our schedule will be so relaxed for the majority of the summer. Next summer she will be involved in camps and other activities and I'll be taxi-ing her around to all those things. And I'll grow to enjoy those things as much as I do our summer schedule now. But, if I go a while without a blog post, you know it's because I can only make going to the gym and the pool sound interesting for just so long.
I do want to show a few photos from this past week because our little dare-devil did something that we are both excited and nervous about - she jumped off the diving board for the first time.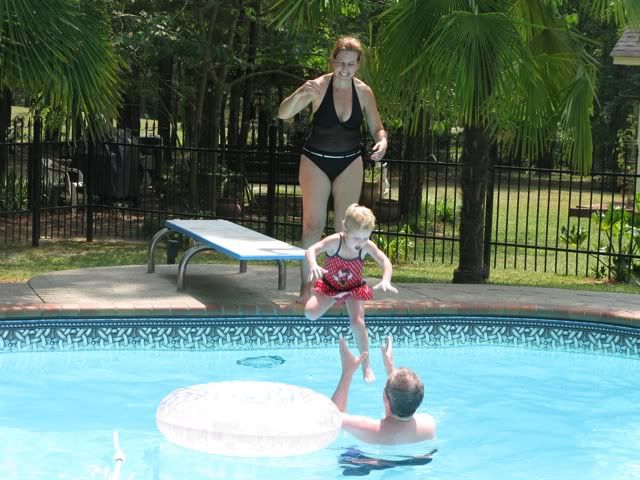 Reagan was there to catch her. But we are a little anxious that she might think it's ok to jump in the pool even without us there to catch her. In the past, we've always encouraged her to swim without her life jacket. Now, unless we are right beside her, we make sure she is wearing one when we are out at the pool, just in case she decides to jump in without waiting on us.
And here she is with me at the doctor's office this past Friday. She was wearing her gloves so she could help as they drew blood from my arm.
They never did really ask her to help with anything. She just stood there and watched while they drew 3 vials of my blood for some tests. When the nurse walked away, she said, "I din't get to hay-yulp." I guess she thought she was going to poke me with the needle or something. She was wrong.
Well, lunch is done and Peppa Pig is almost over. If you know me, you know I'm not one to veer too much from my routine, so I'm off to get ready for our rest time. I'll let you know if
anything
exciting happens around here.