Earlier this week Sara Madalin had her first dentist appointment. Reagan and I both went because we weren't quite sure how she would react to someone looking in her mouth. Here they are right before we went inside for her appointment.
As you can see, Babydoll went with us. She goes pretty much everywhere with us. I think it's sweet and I'm going to miss it when SM stops carrying her around everywhere with us.
Sara Madalin did really well. Reagan held her at first while Ms. Debbie showed her a mirror so she could look at her teeth.
She had a million questions. Ms. Debbie was very patient with her and tried to explain as best she could about the equipment and all the things that she was doing. Here SM is looking at Ms. Debbie's special "toothbrush" that she uses to polish teeth. First, she let SM feel it tickle.
Then she put a little grape flavored "toothpaste" on it and polished SM's teeth. Sara Madalin didn't care for that so much.
But, she's a little like her mother in that she feels the need to be the one in control. Once she felt she had a little more control of what was going on inside her mouth, she was more eager to let Ms. Debbie polish her teeth.
Before it was over, she was polishing her own teeth. I told someone that if we'd left her there, she'd have been their #1 dental assistant before the day was over.
Every time she sees latex gloves, she wants some for her hands. So, she got a pair from Ms. Debbie while we waited on the dentist to come look at her teeth.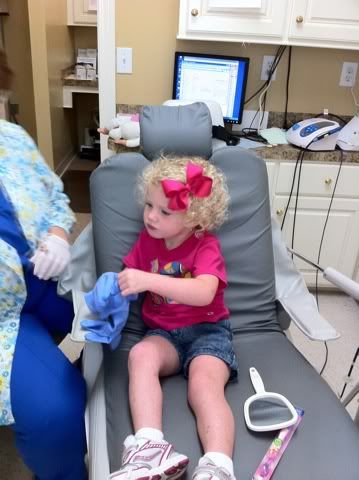 The dentist came in and checked her teeth (sorry, no pics. I had video but didn't take time to upload it) and he said they are perfect. She has great spacing and they look well cared for. He said her gums are looking good and he was very pleased with the health of both her teeth and gums. I didn't tell him, but she is a stickler for brushing her teeth. Even on nights when we come home late and she's already half asleep, if I try to re-dress her and slip her into bed without brushing her teeth, she'll wake up and said, "I din't bwush my teef." I'm glad she's that way. Maybe it will cut down on dental work in her future.
And finally, here she is with Dr. Ramsey. He has been our dentist since before Reagan and I married. Reagan first met him on a medical mission trip to Honduras while Reagan and I were still dating. Sara Madalin was "helping" him with some work. She's never met him before that day, but you'd never know it by the way she walked into his work room and started asking him questions.
She got a new toothbrush and toothpaste, along with a few other surprises from Ms. Debbie. I'm glad she had such a good experience with her first visit to the dentist. Let's hope that continues.
_______________________________
On a different note, the anonymous commenter who asked me a few questions in regard to my last post, please feel free to email me and I will respond to your questions that way. Thanks.