We really aren't trying to see how many days in a row that we can swim, it just seems to be what we're doing this summer. Saturday afternoon we went over to Aunt Bobbye and Uncle Charlie's to swim for a little while in their pool. They've invited us several times and we've just never gone over. They only live about 10 minutes from us and since Saturday afternoon was a little overcast and we didn't have anything else planned, we drove over for a couple hours. We really enjoyed relaxing there for a while. I think Sara Madalin and I may take them up on the offer to come back soon.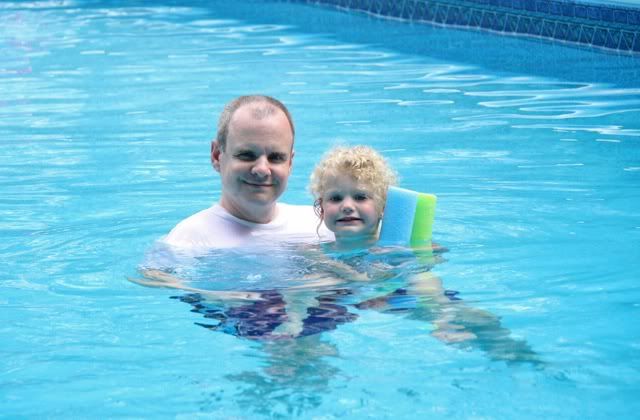 Their daughter, Jan, was there as well. She came out to visit with us for a few minutes. She coaches girls' basketball at SM's school. We had an opportunity to talk with her a little about school and told her how excited we are that SM will be there this coming year.
We also saw Sarah Nan. Jan is her mom's twin sister. Here's a picture of Sarah Nan with our baby girl.
Sarah Nan is a junior at Mississippi State this coming year. I told her that I can't believe she's old enough to be in college. She should still be the little 6-year-old with the big hair bow that visited my Sunday school class when she spent weekends with her grandparents as a child. She always had a big hair bow and a smile.
We are so thankful for the friends that God has blessed us with, like Uncle Charlie, Aunt Bobbye, Jan, and the rest of their family. And it blesses my heart the way they love our girl.