A couple weekends ago, my friend, Julie, called and said they had the use of a beach condo for the following weekend. She then asked if we'd like to join them for a few days of fun in the water and sun. We looked at our schedule, re-arranged a few things, and then packed our bags to head south. Julie and her family arrived on Thursday evening, so by the time we met them for dinner at Lulu's on Friday night, they had already had a day in the sun.
Here's our first picture of the weekend. These girls really enjoyed each other this past weekend. Elle Elise and Sara Madalin at Lulu's.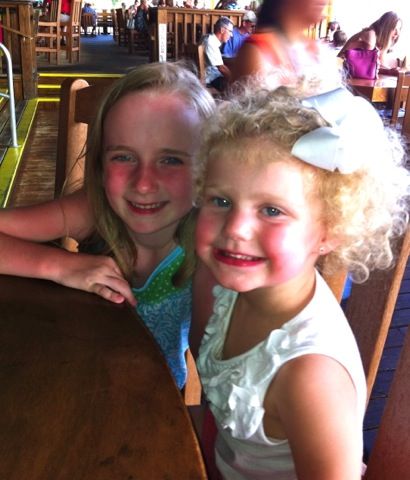 After dinner, Julie and I headed outside with the kids to play. It was so hot out there. But they had a great time playing and dancing to the live band.
After we left Lulu's, the kids wanted to go play goofy golf. And I use the word "play" very loosely. The only people that ended up playing were Reagan and John, Julie's husband. I think Eli, their oldest son also played with the guys. Julie and I just followed the 3 younger children as they walked from hole to hole while holding their putters and golf balls.
Saturday morning we all got up and enjoyed a big breakfast, then changed into our swimsuits to head down to the beach. They had a ball. The waves were just big enough for the kids to enjoy, but not so big that we were afraid to let them play in the water. This photo was taken when we first went down to the beach. Within 5 minutes, Sara Madalin was walking around and playing in the waves with no fear at all.
After a morning in the water, we came back to the condo for lunch. Then, the little kids were put down for naps. Julie and I headed to the outlet mall where she bought nothing and I bought SM 4 turtlenecks and 3 pair of leggings. The older kids watched TV. When SM woke up, she joined them.
When I returned from shopping, I gave Reagan a break and took SM out for a little walk. She enjoyed walking around and looking at the grounds. I enjoyed spending some time with her. I love this girl more than anything.
We enjoyed dinner and then went back to the beach for a sunset swim. The waves were smaller and the kids had a great time playing as the sun set.
Once it was too dark to swim, the kids played in the sand for a little while before we all headed back upstairs for showers and bed.
This next photo is so funny and sweet. SM and Elle enjoyed sitting around with the babies out on the balcony. They were like two little mommies sitting around with their babies, talking about their lives. Notice Elle is wearing a pair of plastic dress-up shoes. You know what they say, "Cinderella is proof, a pair of shoes can change your life."