I was very sheltered growing up. My Daddy was extremely over-protective of me. I wasn't allowed to go out much on the weekends. And when I was allowed, it was with a very small, select group of people. So, to say I got my first real taste of freedom at college is a HUGE understatement. Looking back, I think I could have made some very bad decisions at that time that could have forever altered who I became. But God was so good to me, as He's proven to be throughout my life.
From the very first moment of my entrance into college I was surrounded by good influences. God placed a group of people in my path, and life, that have had a major impact on my faith, my walk, and the person I've grown to be. In the first few days of college, I was invited to a meeting at the campus Baptist Student Union. I went to a small community college the first two years of college. So, the group there at the BSU was small and I quickly made many friends. I've said often, those two years at that small college campus were some of the best of my life.
I grew in my faith by attending services at the BSU. I learned to minister to others by attending weekly visits to the local nursing home where we sang and led devotions for the residents. I learned about discipleship by having prayer partners while in college. And I learned the importance of serving and praying. During my first semester there, a group of us formed a drama/music group that each week would visit various churches on Sunday nights. We would perform drama skits and sing songs. It was our way of ministering and sharing the love of God. We called ourselves "Mission." For many years after we all left, the group continued with new members each year. I am so thankful for those times and the people with whom I shared that period of my life.
This past Saturday night I had a few of those old friends over for a small reunion. My former college roommate, Penny, and I were talking several months ago about trying to get together with some of the people that were such a big influence on our lives during our first couple years of college. Not many people were able to make it, but those who did had a great time and we hope to plan another reunion soon. I've mixed in some old pictures with the pictures from Saturday night to show how some of us have changed (for the better) in the last 18-19 years.
Here I am with Penny during the Spring of 1992.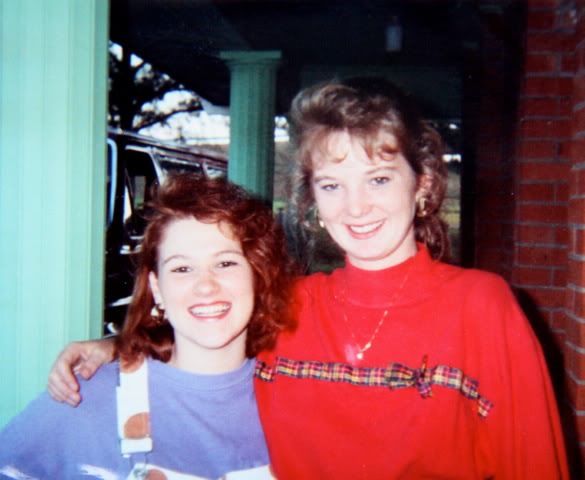 (That was long before digital cameras were readily available and the lighting and quality are not so great.)
Here we are with our girls this past Saturday night.
Jessa enjoyed looking through our old yearbooks. She is a student (high school) of some of the people that her mom and I went to college with.
I posted this picture already. It makes my heart happy to see these two girls enjoying each other. Sara Madalin thinks Jessa is pretty awesome, especially when she dances with one red glove.
Our friend Shane and his family were able to make it. He has two little girls that are about SM's age. She enjoyed playing with them. They were dancing in this photo below.
It was pretty hot outside, but the kids enjoyed playing while we waited for dinner to finish cooking. In addition to the people I've already pointed out in previous photos, Shane's wife, Ginger, and Penny's son, Noah, are in the photo below.
After we ate, the kids played outside in the pool and slip-n-slide. The adults watched as long as we could, but it was H-O-T out there. So, we didn't stay out there too long.
We all just talked and looked at old pictures from our days together at college. It was nice to catch up and reminisce about those days. It's funny the things others remember about you that you might not remember yourself. I was told by my dear, sweet, OLD friends that I was somewhat outspoken and opinionated in college. I certainly don't remember that at all. I also don't remember owning many of the clothes I wore in some of the pictures Penny brought.
With the exception of Rod and Penny, we all had small children, so the party was short lived. Shane and Ginger, and their daughters , Natalie and Sarah, headed out around 7:00. They had about a 45-50 minute drive and the girls needed to get to bed. I didn't find any old pictures of Shane to compare with this current one, but I can tell you he's changed a little. For one thing, he's lost about 100 lbs. in the past year or so. Here he is with his sweet family.
Vic was always saying and doing something funny in college. And often, he didn't even realize he was funny. We, like most college kids in their first couple years, played A LOT of cards. Every night, after dinner, almost any of our BSU friends that lived on campus, and some that didn't, could be found at the BSU playing spades. My roommate, Paige (who didn't attend Saturday night) and I always joked about Vic when he would play. It didn't matter what his hand looked like, or even if he'd seen his entire hand or not, he'd start bidding and say, "I can get at least 6 or 7." And he always wore acid washed jeans and cowboy boots. I have a photo for proof.
He's the one on the far left. He was country when country wasn't cool. He was always a good guy and fun to be around.
And finally, some of my favorite people, the Martins. This is Penny and her husband Rod, who also attended college with us, and their children, Jessa and Noah.
They stayed for a while after everyone else left and let me beat them at Phase 10. (Take that Jessa Trayce!)
I always have great memories of those first two years of college and the people that God placed in my life during that time. My prayer is that Sara Madalin someday has great, Godly friends to influence her once she is in college, away from the watchful eyes of her Mommy and Daddy. It was great to see those who came. I hope we can get together again soon and that more people can attend.