This past Saturday afternoon we went to pick pears and apples at our friends' (Tony and Mary) house. Tony is some kind of farmer. He usually has a vegetable garden. They have roses and just tons of other plants and gardens around their home. He also has several fruit trees. They had invited us over to load up on some of the apples and we jumped on it.
Sara Madalin loves going to Tony and Mary's. She thinks she's on a real farm. Plus, they breed

Yorkies

and she loves getting to see and play with the dogs. But, before we spent time with the dogs, we loaded up in the "buggy" and headed to the pear and apple trees.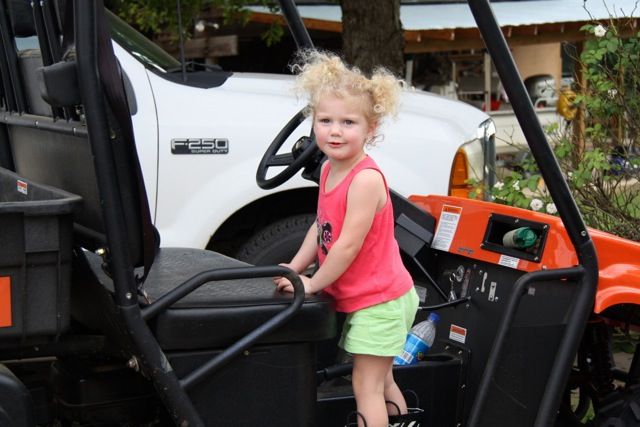 He picked pears first. Then he picked 3 different kinds of apples for us - McIntosh, Fuji, and Granny Smith.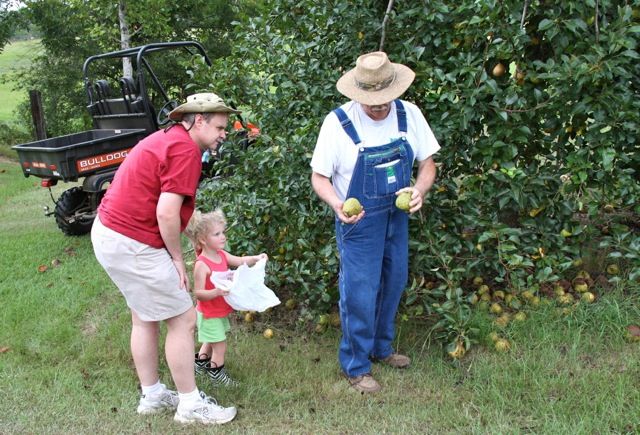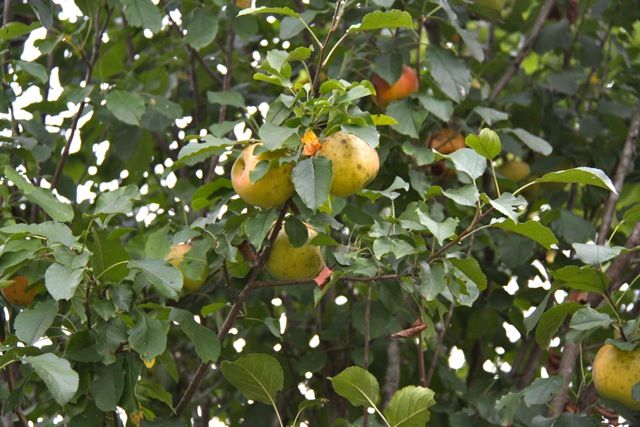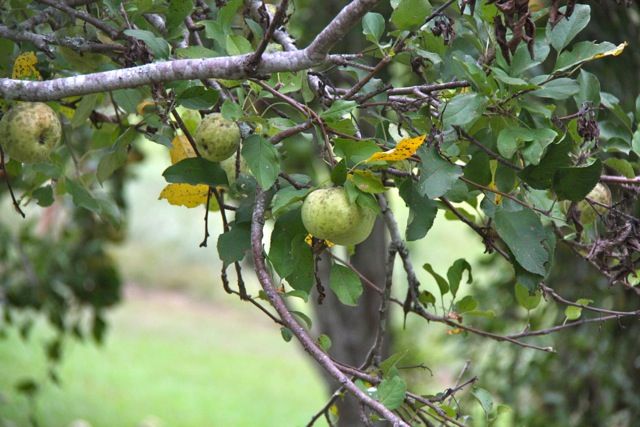 Our girl loved testing out the goods. Here she is chewing up a little bit of apple fresh from the tree. Tony had peeled it for her.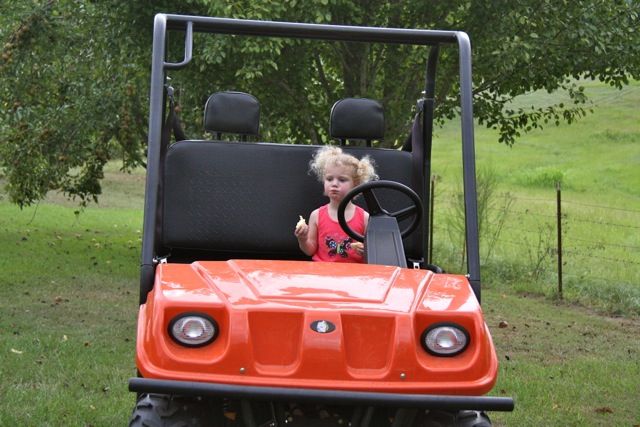 She was still working on the apple as we headed to the muscidine (sp???) vines. Reagan loves muscidines.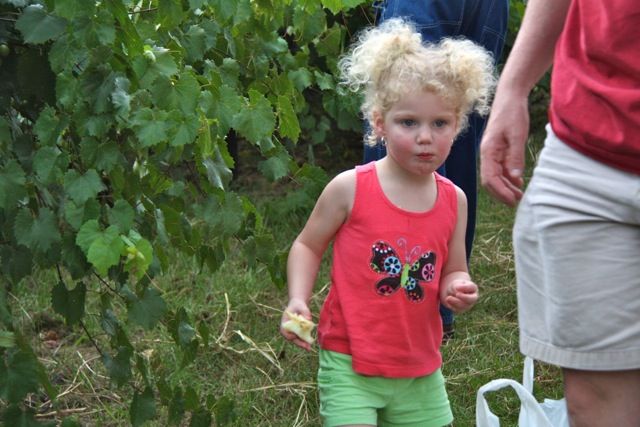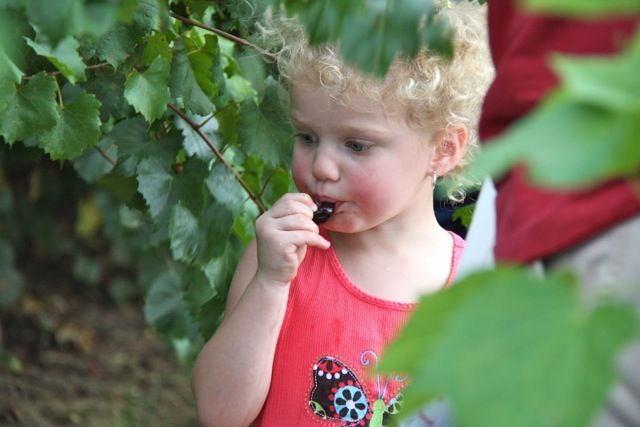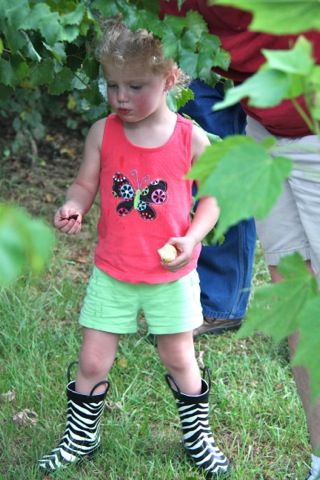 After picking some produce, we headed out to Tony's catfish pond. He fed the fish so SM could see them.
Finally, we headed to the kennel. Tony showed us his set up for all his puppies. He breeds the Yorkies, then sells them all over the globe. He's done this for so many years that he's finally tweaked his business and kennel until it's almost perfect. The dogs have a pen inside an air-conditioned kennel. Each pen has a door the pups can come out to these cages. While in the cages, they can do their, well, "do," then go back inside. Every couple days, he hoses down the outside area and has it set to run to a concrete drain that he had built.
They went inside the kennel. The noise and the smell were too much for me. I snapped two quick photos, then I had to leave. SM loved it in there.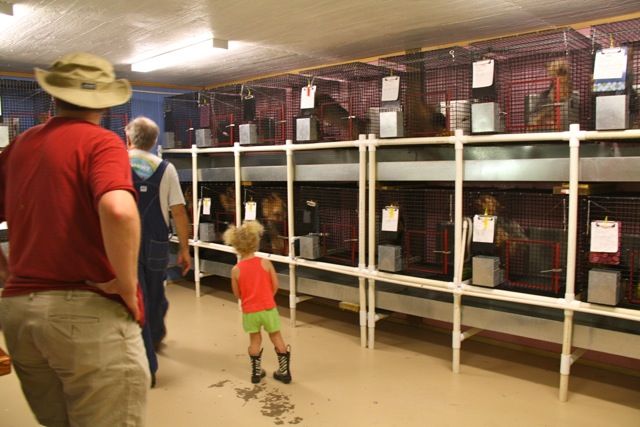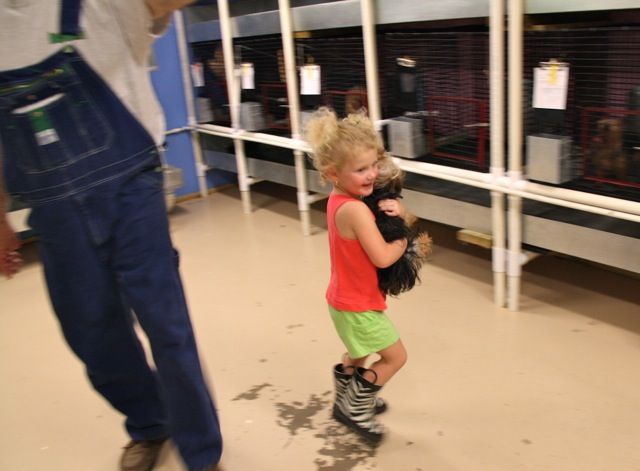 We enjoyed our time with Tony and Mary on their "farm." And we have loved all the fresh fruit we have enjoyed this week. As SM says, "It's yummy in my tummy."