First, let me tell you that it took Reagan and I almost 2 hours to get our excited little girl to sleep last night. She kept tossing and turning and just could not go to sleep. Once she finally did go to sleep, she was up about 2 hours later coming into our room. She went right on back to sleep but woke up at least once or twice during the night. One time, she walked over to the bed and said, "Mommy?" When I answered her, she said, "I go to my school by myself." I said, "Ok, baby. Go back to sleep."
Second, as soon as she fell asleep (well, maybe even a little before), I started crying. My friend, Julie, emailed me last night and asked how things went yesterday. She sent just one line, one question. I emailed back about 3 paragraphs about what all I was crying about. To say I've been a little emotional is a bit of an understatement.
Finally, although we named her Sara Madalin, she informed us this morning that her name is now Spiderman. She would not answer us or do what we asked until we addressed her as Spiderman. I totally blame my husband for this.
She got up when we did and got her bath. She had breakfast and we got her dressed. Then we took a few pictures before heading off to school. I had made this little sign and told her, "Hold it up so Mommy can see." This was the first picture I got.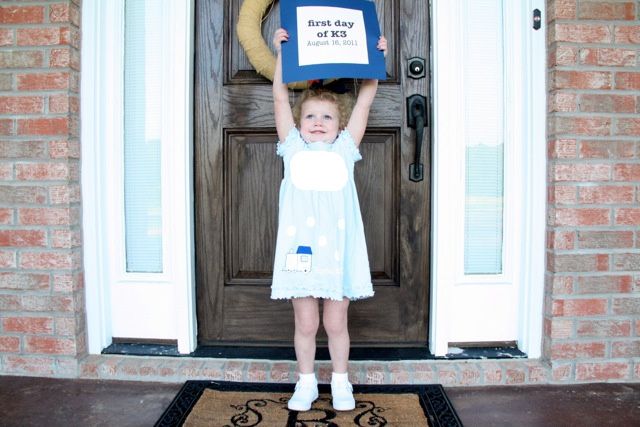 Next, I took a picture of her with her school bag. She posed like this and said, "Mommy, can I stand like this?"
Reagan drove and I rode in the back with her. I kept trying to hold her hand and she told me not to. I guess she already thinks it's uncool to be seen holding your mom's hand.
She talked non-stop on the way to school. She asked a million questions and told me all kinds of things that she was going to do. I wish I could remember it all so I could write it down. She is so funny.
A teacher's assistant came to the car and unloaded her from the carseat. She was so ready to go inside that I had to remind her to give me a kiss and a hug.
I went to the gym and ran a few errands, then picked her up. As soon as Miss Tricia put her in the car and she started whining about something very insignificant, I knew she was tired.
I gave her a cup of milk that I had brought her and a snack. I asked her a few questions about her day, then I let her watch a movie on the rest of the way home. As we were driving home, she was sitting back there really quietly when suddenly she said, "Keep your hands to yourself."
I said, "Did someone say that to you today?"
She got really shy and covered her eyes and said, "Miss Tricia."
I said, "Did you try to take something from someone today?"
She said she had tried to take someone's snack. I said, "Sara Madalin we shouldn't do that. It's not nice to take other people's snacks."
She said, "I'm not Sara Madalin. I'm Spiderman."
Thank you to all my sweet friends who sent me texts and emails asking me how her day went. It was so encouraging to have those messages. As, you can tell, she did fine. And I survived too.