I have several pictures from this past weekend that I will post in the next couple days. But the biggest thing to happen around here these past few days is that Sara Madalin went to school to meet her new teacher today. The K3 class has what is called a Tea Party to start the year. It is a time for the kids to come in and meet their teacher and also a time for the parents to take their fill of pictures. On the first official day that their class meets, tomorrow, we are asked to just pull up to the carpool drop-off and allow the workers to take them to class. So, I won't be able to follow her in and take hundreds of photos like I had always envisioned. But, as I found out today, I'm not the only parent who planned to do that. Ha.
Here is SM right before we went inside to show her to her classroom and meet her teacher. She was so excited, she almost wouldn't stop long enough for me to snap this quick picture.
Miss Melodi had a little work area near the kids' tables. On the work area was a cup filled with pens, pencils, and a couple pair of scissors. I had to intercept SM and take those scissors from her no less than 3 times today. If I were a betting woman, I'd put money on Miss Melodi calling me at home one morning this year to tell me that SM did a number on her (or someone else's) hair with those scissors.
Each classroom has an animal associated with it. Sara Madalin is in the turtle room. Sara Madalin calls it the "Tuttle Woom." She has a turtle name sticker that she'll wear every day for a few weeks. In her classroom, there are turtle decorations everywhere.
Here's her seat at one of the classroom tables.
Here's their daily schedule.
On Monday and Thursday they will have music during the "Centers" time. The centers are play areas within their classroom - kitchen, art, etc. On Friday, they will have something called Mind and Motion. There is also an option for them to stay for "Lunch Bunch" then take one of several classes in the afternoon. On Mondays, SM will stay for lunch, then take dance for an hour. On Thursdays, she will stay and take a Computer Tots class. All the other days I will pick her up at 11:30.
While she was playing in the Centers area today, she found a tub of magnets. I don't think she's ever played with magnets before. Because it was new, she spent quite a bit of time examining them and playing with them.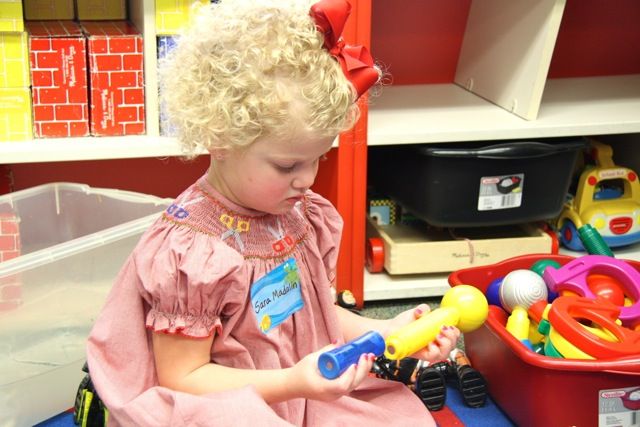 After a little inside play, we headed down the hall for a cookie and then outside to play
After a little while there, we came back inside in hopes of saying good-bye to Miss Melodi. SM began to play again and DID NOT want to leave. While she was playing, I took a few pictures of the room.
We were the last people to leave our classroom. Reagan tried to explain to SM that it was time to go and that she would get to come back tomorrow without us and stay for a long time. She didn't care what he was saying, she wanted to keep playing TODAY. After a little more coaxing, she finally agreed to leave.
On our way out, we ran into one of her church buddies. She will be in the class with a couple other children from church, but one of her best buddies is not in her class. This is Audrey.
Audrey's mom told us (and a mutual friend who later shared with us) that Audrey comes home from church talking about SM all the time. When she saw Sara Madalin on the playground today, she first looked surprised, then I saw her run to her mom and say, "Sara Madalin's here!" Sara Madalin wouldn't stop long enough to take a photo on the playground, but she did on our way out. I think they are two of the cutest girls in the whole K3 class.
I think she's going to do great tomorrow. She kept telling us "bye" today, because she wanted us to leave her alone and go. I told her that I wasn't leaving today, but that tomorrow she could stay without me. She keeps telling me not to cry and I keep telling her I'll try not to. But just between you and me, I'm not making any promises.