Saturday, after I ran a 5K (have I mentioned that? Ha.), we headed to Susan's to spend some time in the pool. Reagan and SM played while I just relaxed on a float. We did that until Reagan went and got lunch. Then, SM and I took a little nap. When we got up, Mitch and SM went over to his girlfriend's house while Reagan and I spent an afternoon date together.
Mallory understands my obsession with photos, so she took a few for me while SM was in her care. I'll add her photo descriptions to the next several pictures. Mainly because she was there and I wasn't. Also, because it's funny some of the things she said.
She was playing with the babies in the girls playroom. There are probably twenty baby dolls four baby beds, lots of dress up clothes, a barbie house, baskets of stuffed animals and everything a little girl could dream of. She loved playing in there. She put her baby to sleep and ran through the house telling everyone to "SHH! her baby was sleeping!" Then after a little while she said, "Waa...Waa.. My baby is crying!" She ran back in there and got the baby up. While playing in there is when she had her accident.
"In the barn cat" was right before she got in trouble from Mitch. It was because we were scared she was going to get bit or scratched. The cat had been a trooper as you can tell and he was ready to get away. She threw him right after this picture was taken.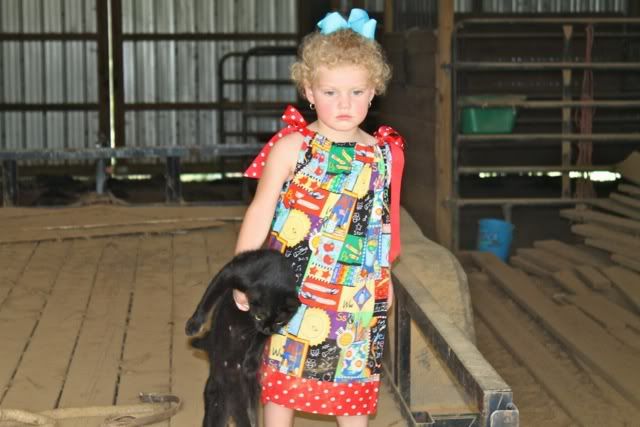 "Loving the cat" This one is so cute and sweeet. She was on "farm entertainment" overload... one of the only times I could get her to be still enough to take one of her smiling.
"Scared Cat" was funny to me because you can tell how tight SM is squeezing him and his eyes look like there were about to pop out of his head.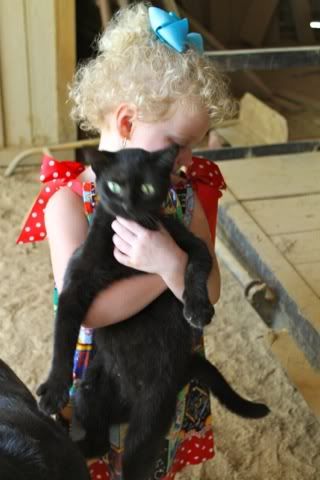 "Big Stick" was five minutes after she got here. She was running around playing with the dogs outside and found the big stick. She was excited to be out of the car and ready to play.
"Rope Swing" She couldn't quite figure out her balance on the rope swing but Alli held onto her and she had fun. With so many other things to do... she didn't swing for long.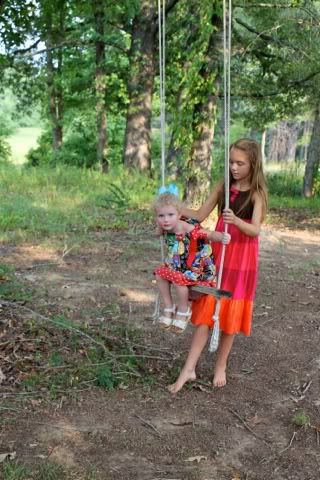 We left the swing and went to the trampoline. She had a blast! While jumping on the trampoline, I noticed she was really starting to sweat. It was dreadfully hot. We came inside got a popsicle and changed into the t-shirt. Her dress was dusty from the barn and sweaty from all the active playing.
In my Swap T-shirt she just had so much fun. It helped her cool off. and She just played and played. She played fetch with Rory, our yorkie, played with babies more, played Candyland with Alli and Riley, colored in a princess coloring book and ended a great day. At dinner, she prayed and wanted to just eat the french bread. We told her that she needed to eat two bites of everything before she had more bread. We had grilled chicken, ranch potatoes, baked beans and salad. She convinced us that you let her drink sweet tea. We gave her a little bit in her cup. It was fun having a little girl in our house again. She had a thousand questions about what everything was and we had forgotten that our house wasn't near as child proof anymore. She kept us entertained for sure.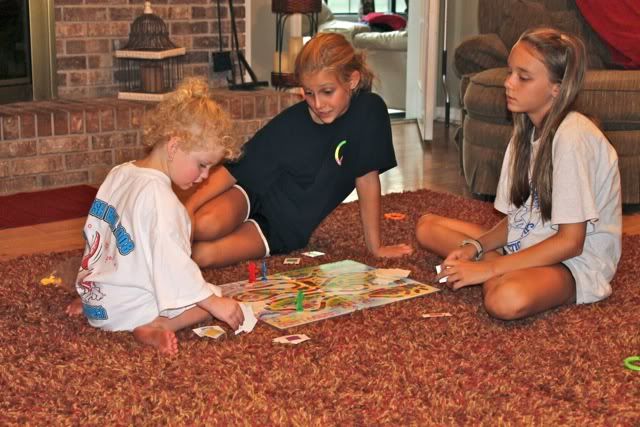 We were so thankful to Mitch and Mallory (and Mallory's family) for keeping her for us for a few hours. We enjoyed a movie and a delicious meal together while she played and kept them all entertained. She's already told me that she's going back again to feed the horses.