Our summer together is almost over. You are going to begin 3-year-old preschool in just a few days. Even though it will only be half-days, just thinking about you being there every day instead of here with me makes me tear up. But I know you will love it and the interaction and challenge of school will be perfect for you. Your Daddy and I often talk about how smart and inquisitive you are. I can't wait to see all the new things you learn this year.
Aside from the Summer that we became your parents, this has been my favorite Summer with you. We've spent almost every day and minute together. Some days have been nothing less than precious; other days we've had more than our fill of each other. We are more alike than I think I want to admit sometimes. We both like to be the one in control. And whichever of us is not at the moment, makes sure everyone around knows we are not happy about it. Often times your Daddy has to intervene and be a peace maker. He's very good at that. You are I both also like to have our sleep. And again, if we don't, we're not that fun to be around.
But you have other qualities of mine as well. You like to laugh and make others laugh. You crack me and Daddy up sometimes with the things you say. For instance, just the other day, I was putting you in your car seat and telling you, "Hurry up. We're running late." You looked at me and said, "Mommy, are you freaking out?" I couldn't help but laugh at you.
I'm so glad we've had this Summer together. I've said many times that you are growing so quickly that soon you won't be a baby at all anymore. Anytime you hear me say that, you remind me, "I'm your baby forever." You say that because I've told you that so many times. I've told you that no matter how big you get, or how old you are, you will always be Mommy's baby. And if I could have picked any little girl in the whole wide world to be my baby, I would have picked you EVERY TIME. I'm so thankful that God gave you to me. I'm so grateful that I've gotten to watch you grow and see your little personality develop. I'm so happy to see who you are becoming. I've told your Daddy, even if we ever adopt again, even if we could have as many babies as we want – there will never be another little girl like you. You are the most unique, special child I could have ever had the privilege of calling mine.
Today, I sent your Daddy this picture.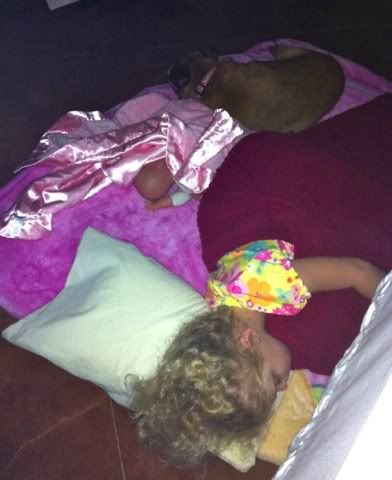 That's you asleep on your pallet next to our bed. (Every night before I go to bed, I make you a pallet on the floor on my side of the bed. In the night, when you get up, you come lie down there and sleep until morning.) After a full morning of swimming, we had come home to get ready to rest (nap) and you said to me that you wanted to lay down on your "pal-wet." You surprised me when you asked to sleep down there. For the last year, when given a choice of sleeping anywhere, you've always asked to sleep in "Mommy's bed." There have been nights you've begged to sleep with me. Every day this summer, my favorite part of the day has been nap time. You lie just as close to me as you can, and you cuddle up right in my back, and you sleep for an hour to two hours. But today you wanted to sleep alone. So, I let you. And you went right to sleep without a fuss.
Even though I know in the long run it is best and going to make things so much easier for everyone, I was a little sad. I told your Daddy it had broken my heart. But, I guess that's another part of really being a Mommy – having your heart broken so your baby can grow into the person they are supposed to be. I don't know who you are supposed to be yet, but I do know you are going to be great. You are too head-strong, intelligent, funny, and curious to be anything less than great.
So, as we get ready for our last full week of the summer, I want you to know, even though there were days I could NOT wait until your Daddy walked through the door in the evenings, I am so glad we've had this time together – just you and me. I've enjoyed every moment of swimming, every time I've heard you laugh, every cup of milk I've poured, every book I've read you, every trip to the grocery store where you've asked for a prize, every afternoon rest – I have enjoyed everything that was you at 3-years-old this Summer. You have grown so much and I am so very proud of you, my Silly Goose.
Love,