Today was our last full day of summer before my Big Girl starts school. Monday, she goes for about an hour to meet her teacher. Then Tuesday morning, I'll drive up to the school and they will take my Sugar from her carseat and walk her inside the school and I will cry like a baby. Ha.
Today we had plenty errands to run. One thing we needed to do was go buy her a pair of ballet slippers and tap shoes. She will begin taking dance lessons on Mondays. We went to a local dance store and they fitted her for shoes. First, we tried on a few pair of ballet slippers. We ended up buying a pair of 10 narrow. The young lady, Addison (I know her name because SM asks EVERYONE, "What's you name?"), said we needed to buy a pair just a little too big because she would grow into them really soon.
She walked over to the mirror to check herself out. She looks like she has only one leg in the next photo because she kept moving so much.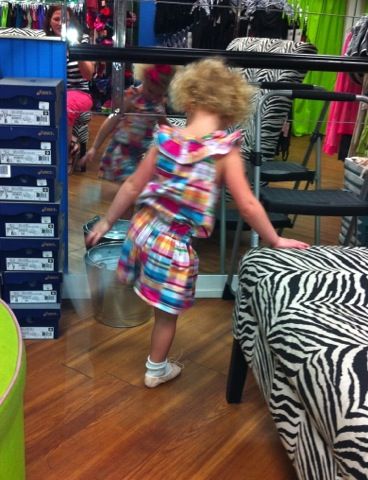 Next, we tried on tap shoes. I knew she would love them as soon as she stepped onto the floor. And I was right.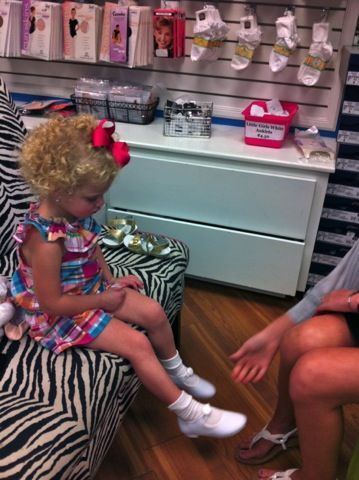 She walked all around the store in those shoes. I wish I had videoed her because she loved them. We bought her an extra pair of elastic buttons (I forgot what Miss Addison called them) that are more like jewels. She put the shoes on again when we got home and scratched my stained concrete floors all up. Then, again, she put them on later tonight for her Daddy. More scratches. But she's excited about them, which I'm hoping is a good sign.
We left the dance shop and went to Target. Her Daddy has taught her to say to me, "Target is dangerous." He says that because I spend so much money there. But we needed a few things, so we HAD to go by there. After lunch and Target, she was "so sweepy." So, I told her to go ahead and close her eyes and rest. So, she did.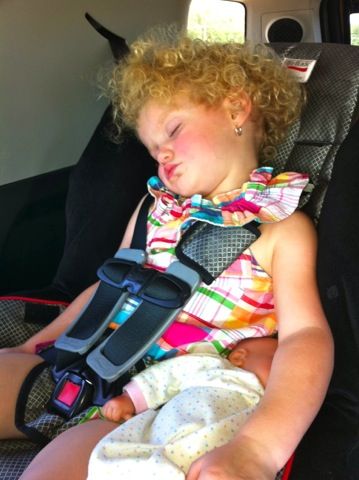 Later tonight, we headed out to our former church for a funeral visitation. SM was so sweet. She loved on everyone there as if she sees them all the time. I think they all loved it. Then we went to dinner with our friends, Tony and Mary. SM was a hand-full at dinner. But she was loving Tony and Mary. Here she is toward the end of dinner with Tony.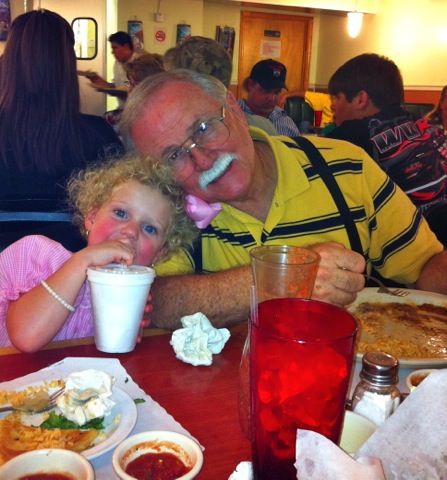 And here she is with Mrs. Mary.
We had a good last day before school starts. On the way home from the restaurant tonight she said to me, "Mommy, I'm so excited about going to my new school." It was so sweet. Then she wanted me to tell her, again, what all she would be doing at school. I'm glad she's excited. If she's happy, I will be happy. I do want her to grow and explore and become who she is meant to be.
But I'm still going to miss her while she's out becoming something amazing.