There were several small stories from this week that I wanted to share. I'll just do a little bulleted list to make it easier (and hopefully quicker) on all of us.
Monday night it took us forever to get SM to sleep because she was so excited about school. Every night since then, she has been asleep by 8:15 or so. She's been one tired little girl. We try to start with a bath around 7:15 or 7:30. After she's done with that, she brushes her teeth and we read. By the time we read one or two books, she's so sleepy she barely moves once I leave her to go to sleep.
She's so cute when she walks out of the preschool building to my car. Once she's buckled in, I give her a cup of milk (cause she's always so "stirsty"). Then I try to ask her a few questions, like, "Did you play on the playground today?" or "What did you have for snack?" The first afternoon I asked, "What day did you learn it is today?" She said proudly, "It's Summer!" Every day I've asked what day it is and she always exclaims, "It's Summer!"
Thursday, Reagan's dad had surgery, so Reagan was gone by the time we got up to get ready for school. I got up, got ready, fixed her lunch, then got her up. It was the first time she'd carried her own lunch box and she was so excited. Even though I had everything packed before she got up, she wanted me to open the lunch box and show her everything that was in it. Then we took a picture of her before heading out.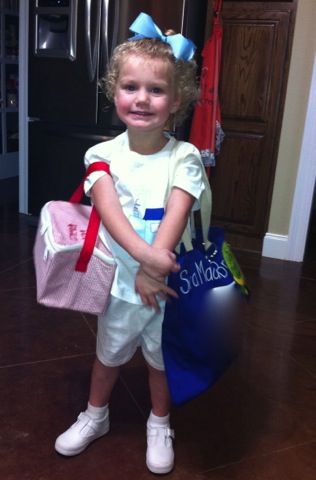 Because she stayed for lunch and nap time, I had to pick her up a little later on Thursday. Just as I left to go get her, it came a terrible storm in our area. When I got to school to pick her up, the power was out. All the preschoolers and teachers were playing in the hall of their building as they waited for parents to come pick up their children. When I entered the building, SM came to me. Then I started talking to her teacher and asking about the day. SM walked away. The teacher and I talked about 2 or 3 minutes, then I said, "Where did Sara Madalin go?" I walked into her classroom, where no one was but SM, and she had gone to where the teacher keeps the paint, opened a bottle, turned it upside down, and squirted about 2 tablespoons onto the floor. I scooped her up, went and got the teacher, all the while apologizing as much as I could, and told her what SM had done. The teacher said, "That's ok. I'll clean it up." I told Reagan, she (SM) had probably thought about getting to that paint all week and had just been waiting for the time that the teacher was distracted enough that she could get into it.
I'm still trying to get her to rest some during the day because on the days she stays at school all day, she will have to lie down for about an hour. So, she's taken about an hour nap every day that she's been with me. The one day she stayed at school during nap time, she didn't nap. They told me she was good, but that she just didn't go to sleep. But this was her about 5-10 minutes after I pulled away from the school that day.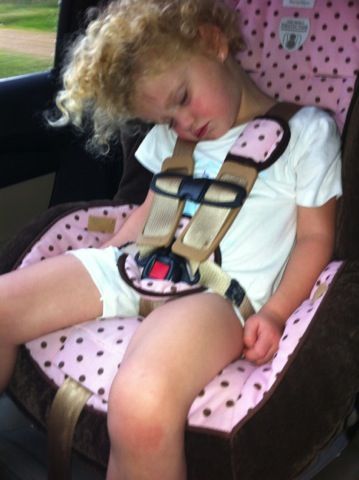 Thursday night it was just SM and I at home because Reagan spent the night at the hospital. She was very good for me. She didn't throw any tantrums. She ate and minded well. And she played well too. I heard her at one point in the guest bedroom saying to her doll and a few other toys, "Ok children, I'm gonna be your teacher today. We gonna have so much fun. We gonna color and play." I thought it was so sweet. Now, when it was time for bed and she realized her Daddy wasn't going to be there to "sweep wiff us," she wasn't so happy. We both missed him Thursday night.
Friday, while she was in school, I went to The Children's Place to try and find her some leggings. I did what I always do in there and walked to the back of the store - where I've always purchased clothes for her - and was shocked when I realized, size 4T is not in the baby/toddler section. It's in the big girl section. I almost cried as I turned around and headed back to the front of the store to look for her size.
When I picked her up from school on Friday, she had two crafts that she had done, one was this picture/interview below.
In case you can't read it, it says her name: Sara Madalin, her favorite color: red, her age: 3 years old, and her favorite food: chocolate. I wish I could have seen Miss Melodi's face when SM answered that last question.
The other craft she had on Friday was this crown she's wearing in the next picture. I just smiled and laughed when she came walking down the sidewalk wearing that when I picked her up.
Look at that hand on her hip. And when someone asked her if she was wearing the crown because she was a princess, she would say, "No. I'm da queen." Mercy!
Because she had missed her Daddy so much, when I picked her up from school we went to the store to have lunch with him. She was so happy to see him. She would have been even happier had B.B. been there. On the way to the store I told her we were going to see Daddy. She said, "And B.B. will be there?" I said, "I don't think so." I called the store to tell Reagan we were on our way. When someone answered the phone, I said, "Is Reagan available?" From the backseat she said, "And B.B."
She's had a great week. I've been so very proud of her. She loves school and has been ready to get up and go every morning. I'm hoping that lasts. We'll see. But even if she doesn't jump out of bed every morning, I think she is going to enjoy school. I spoke with her teacher briefly this evening and she said that Sara Madalin has been curious, but all the children have. She did say, however, "She is busy, as you said. She asks a lot of questions." But she didn't indicate that her questions and curiosity were a problem. Rather, she made me feel as if it's SM's way of learning and said if there was ever a problem with SM's behavior she would certainly let me know.
She also said, before our conversation ended, "She has the funniest little personality." Yes, yes she does. I can only imagine what she's said this week.
I hope she has as a great a week next week as she did this week.