In January 2009, when our girl was only 8 months old, we began taking her to swimming lessons. For a look at her when she first started swimming, I pulled some pictures of her from that night.
I wish I could reach through and just nibble on those cheeks.
I can't even believe that child is the same as the baby in the first few pictures. When did she grow those long thin legs?
Elizabeth was in youth group at our church when Reagan and I first married. She has been the best teacher to SM. We had the same teacher (Lisa) for about a year. Then Miss Elizabeth came in. SM had her for one semester, then moved to the big pool. After one semester in the big pool, SM just couldn't handle it anymore. I don't know if it was the fact that she, for the first time ever, had a male instructor, or maybe it was the fact that there was so many kids and it was so loud, or just a combination of all those things. But every week, she'd cry. And it wasn't just for a few minutes. She would cry so much and so had that she would almost be sick. It broke my heart. I struggled with leaving her in the class and making her learn to tough it out, or pulling her out so as not to traumatize her. I didn't want to be a mom who pulls her kid from something because of crying, but I really thought it was too much for her emotionally. Finally, after about 3 weeks, her instructor came to me and said he was moving her. He couldn't stand to see her so upset every week either. So, we moved her back to the small pool with Elizabeth. It was like she became a different child. She enjoyed lessons again. So, I am grateful for Miss Elizabeth. She was awesome this semester with SM.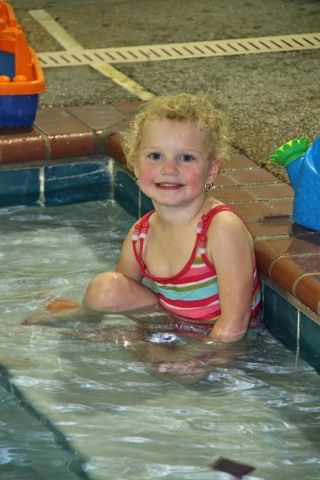 I got a little video, but there was a glare on the window through which I was videoing, so it's not very good.
It was a little bittersweet to see her swim for the last time there (at least until next Summer, hopefully). But I am excited to see her move to a new activity. And you can count on pictures of whatever she moves on to next.