Sunday evening our church had a church picnic at an area farmers' market. There was a huge crowd that came out to eat and listen to music performed by our youth choir and the group Paid in Full. Here we all our fixing our plates full of wonderful food.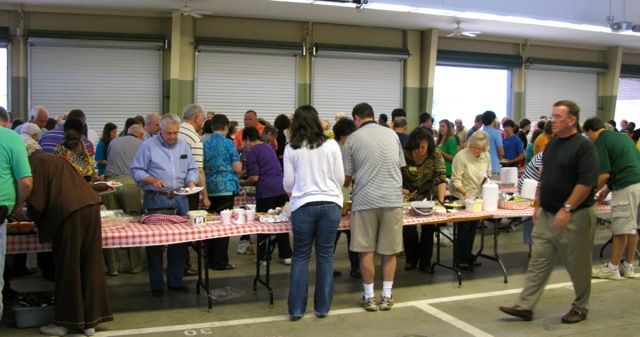 I let Sara Madalin pick out the food that I put on her plate. Here she is after we sat down. The first thing she ate was the ONE dessert I allowed her to have - a piece of chocolate cake.
Here's her plate. I'm not a bad mom, I promise. I do try to feed her a well-balanced diet. But, Sunday night I allowed her to choose. She chose mashed potatoes, peanuts, a piece of chicken, one carrot (which she chewed up and spit out), and a big piece of chocolate cake. She ate every bit of it except for the carrot and a couple bites of the chicken.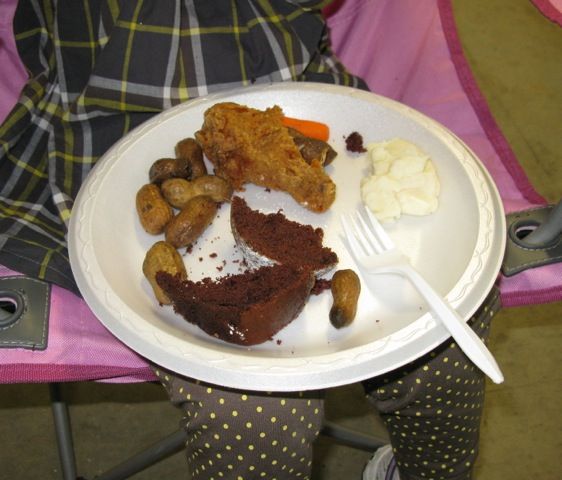 Here's Sara Madalin with one of her best friends, Mrs. Kandy. She's our preschool director. Sara Madalin runs to her pretty much every time she sees her.
After we finished eating, we went outside where all the little kids were playing. Here's SM with her buddies, both named Audrey. They were playing "Ring-Around-the-Rosies."
I was so nervous with them all running around in the parking lot. But they have no fear.
Here's Reagan trying to contain our child to the area where we were. She kept trying to escape.
Finally, we led her up to hill that the bigger kids were climbing. She called it a mountain.
For our evening finale, we caught crickets. She was a little afraid to touch them at first, but when the other little girls started catching them, she wasn't going to be outdone.
Look at how hot and sweaty she was. But she had a great time.