Last week was Homecoming week at Sara Madalin's school. The kids in her class looked forward all week to attending their first pep rally, or "pepper rall-ree" as many of them called it. They learned the fight song and a few cheers during their music class last week. They were allowed to wear cheerleader uniforms, jerseys, or any other "spirit" shirt they chose on Friday. By Thursday night, she was almost too excited to sleep. I decided I was going to attend the pep rally, mainly to take photos, and to see how she and the other little 3-year-olds handled their first pep rally.
I got a few pictures of Sara Madalin before she noticed me being there. In the past, when I've shown up at school or dance or something of that nature, she gets upset and wants to come to me. Not Friday. She saw me, she smiled and waved, then went back to looking out at the band and cheerleaders on the football field getting ready for the pep rally. She's growing up so much. Here she is with a couple of her little friends right before the pep rally really got going.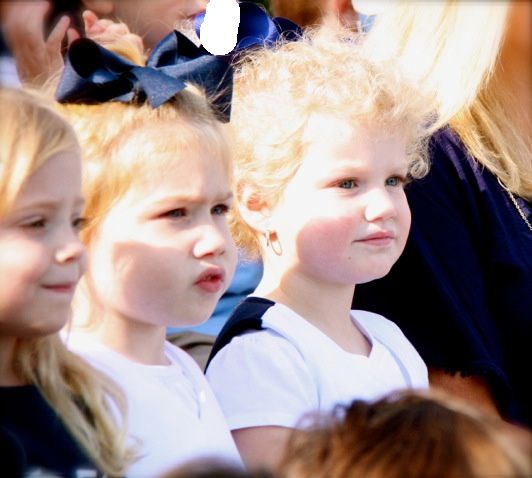 During the pep rally I sat with my friend, Shea, and her little girl, Emma Charlotte. She has a son, Ian, who is a year ahead of Sara Madalin. Here she is with her precious daughter.
Before the game Friday night, there was a little pre-game activity for the kids and parents. Some might call it tailgating, but for us, it was mostly us watching Sara Madalin as she ran around the practice football field.
Not long after we arrived, we ran into one of Sara Madalin's best buddies, Shields.
Shields is a few years older than Sara Madalin. She has helped in Sara Madalin's Sunday school class at church. SM loves Shields and her younger sister, Addison. And those girls are always so sweet to SM. Every time they see her, or she sees them, they all have to hug and talk. I love seeing how much these girls love and enjoy each other.
As I said, SM basically spent pre-game time running.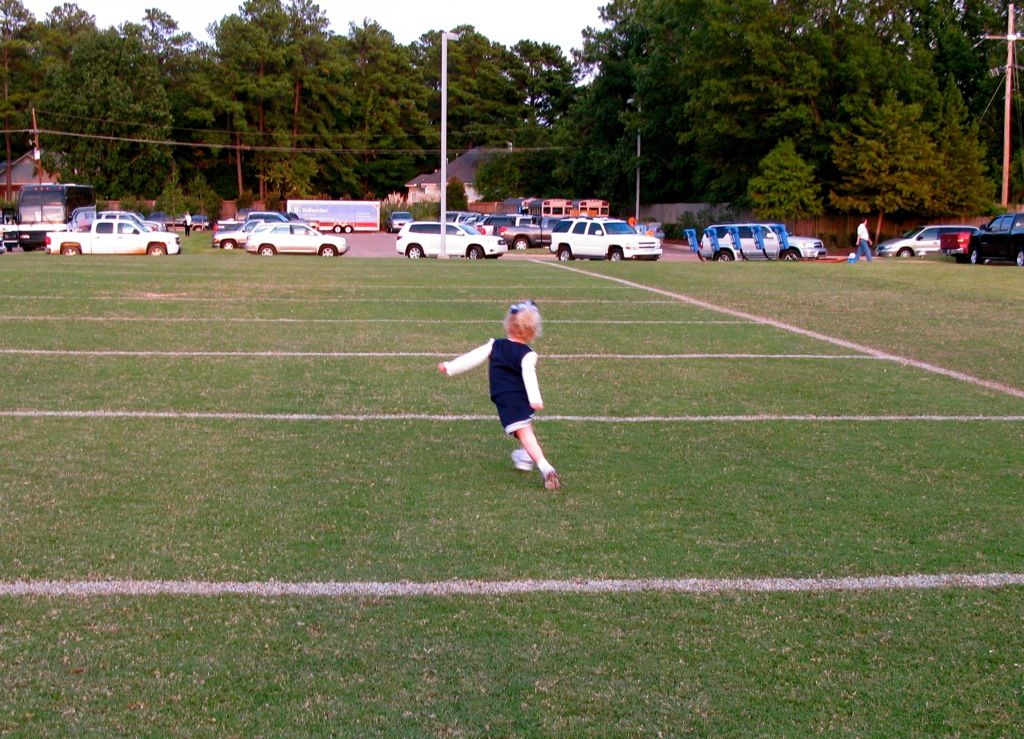 She'd run a little, then lie down and rest for a minute. Then she'd get up and run some more. I got tired just watching her.
Mitch and Mallory showed up for the game. He was asked by one of his Sunday school students to come out. Mitch's former high school is SM's school's biggest rival. We've picked at him a lot about SM going to a rival school. He told us Friday night he almost felt like a trader coming in the gates and sitting on the home side. SM was glad to see him nonetheless. And she enjoyed cheering in his ear every chance she got.
Right before half-time, SM started getting "ants in her pants." We decided we'd go down to the end zone where my friend, Shea, and her family were. They were standing down there letting the kids play. When we got there, we saw that Emma Charlotte and Ian had pixie sticks. SM asked for one and Reagan walked over to the concession stand to get her one. While he was gone, she said, "Mommy, what's in that?" I said, "Sugar. Pure sugar." She said, with amazement, "Ooohhhh." Shea and I just laughed. It was if she was thinking to herself, "Finally, I'm getting some good stuff." She had the best time with that pixie stick.
After she was hyped up on sugar, there was just no containing her. We decided we'd better head out before she caused bodily harm to herself or someone else. So, we started walking to our car. As we were headed that way, we ran into Mr. Joseph.
He's one of the security personnel at SM's school. He is the sweetest and friendliest man. He is almost always outside her building when I pick her up from school each day. One day he stopped by and was talking to me (he talks to most every parent that picks their child up from preschool). He asked if she was my first child. Then he started giving me encouraging words about how well she'll be taken care of and what all she'll learn. Then, as she was begin placed in the car by her teacher, he talked to Sara Madalin. Anyway, as we were leaving, when she saw him, she just had to go over and say hey and give him a hug. So I took her picture with him. Mr. Joseph wasn't the only person she walked up to and hugged Friday night. We met several people Friday night because our daughter ran over to them and hugged them. I am so happy that she enjoys herself at school and loves the staff there. It not only makes me happy, it gives me a little peace knowing that she is somewhere during the day that she is enjoying.
We finally made it home, without any tears or bloodshed this week, and started trying to get her ready for bed. And let me just tell you the lesson we learned from Friday night - NO MORE PIXIE STICKS! At least not unless it's going to be followed by a little Benadryl afterwards.
Not that we would do anything like that.