Sunday morning Sara Madalin and I headed out to the car while Reagan finished getting a few things ready for church. Since we had a couple minutes before we needed to leave, I thought I would snap a couple pictures of her all dressed up for church. I don't know why she smiled like this in the next picture. I guess she wasn't in the mood for pictures.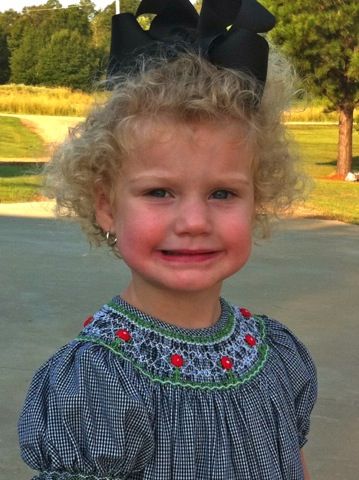 Then she said to me, "Wet me show you my mean face."
Finally, I got one that was really cute. Except for maybe the naked baby she was carrying with her. That's Gracie. She has two baby dolls that she carries around all the time. The other is smaller and named Amanda, after her "wittle baby cousin, Amandah."
Worship service at church Sunday morning was really sweet. The speaker shared about family and communication and so forth. At the end of service he surprised us by asking all the married couples to stand and face each other. He told us to join hands, that we were going to renew our vows. It was so sweet. There were couples everywhere, all looking at each other and saying "I do." It just brought tears to my eyes.
Sunday night we returned for the second part of the message, and SM went to her first AWANAs class. When we went to pick her up after church, she was working on a craft. She told me she wanted to stay and for me to come back in a few minutes. But she did let me take her picture right quick.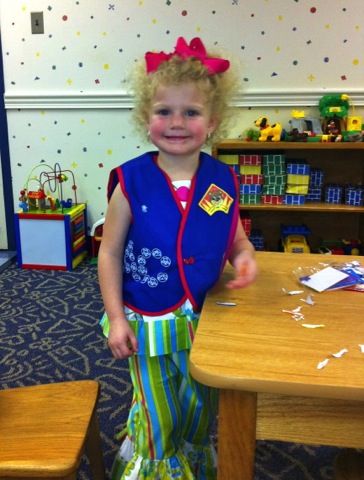 We didn't leave and come back in a few minutes. We just waited until she was done. Her teacher has had her before in VBS and told me then, "I've got her number." She knows how busy SM is and she uses SM as her special helper. (Her school teacher has told me that she does the same thing. I guess they believe the busier they can keep her doing things to help them, the less destructive things she can get into. Ha.) Her teacher told us, "Just when I think she's in her own world and not listening, she surprises me." She said they had reviewed the last lesson (which SM had not been present for), then talked about this week's lesson. Then the teacher asked some review questions. SM answered one of the questions. The teacher looked at her and said, "Good job." Or something to that effect. SM looked at her and said, "Yes. I'm smart."
(Lord, please give my baby some self-confidence.)
We had a great day. I'm so thankful for the way that our little girl is ministered to there. I'm thankful for all the people that teach her and love her.