Our friend Julie came upstairs and started knocking on doors at 5:00 a.m. Saturday to make sure everyone got up and ready for the big game. The kids were wide-eyed and ready. The moms and dads, not as much. We knew we needed to leave around 6:00 in order to get to the Ole Miss game that started around 11:00. Here are the little kids all dressed and ready to go.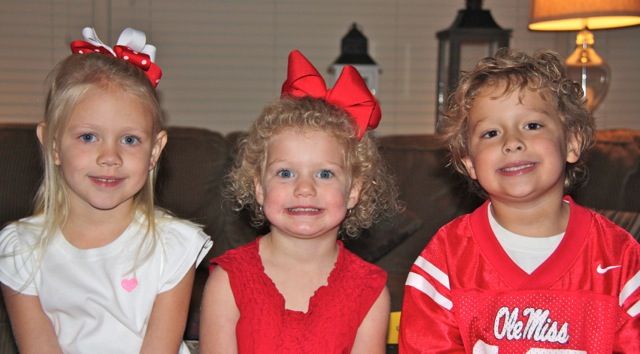 I told Reagan that Oxford, MS will never be the same if these three attend Ole Miss together in about 15 years. They had a great time together this weekend. But they can be a bit of handful at times. Especially that curly-haired one in the middle after she's had a little sip or two of ranch dressing.
After the drive up, we made sure we had a quick photo shoot before walking to The Grove. In my opinion, these are some terribly cute kids right here.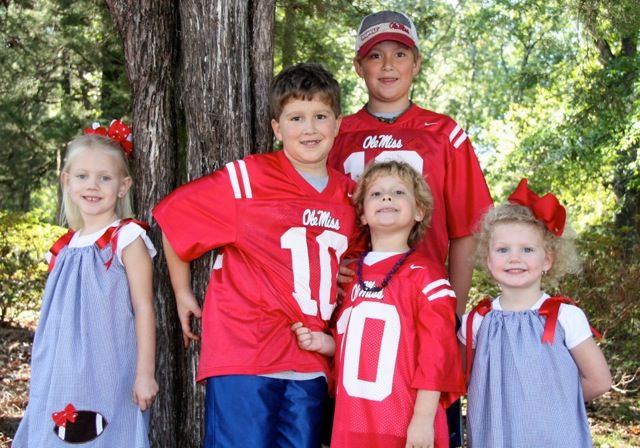 I made the dresses for the girls. It was a little cool when we left the house early in the morning, so they had on leggings. By the time we reached the stadium, it was hot and I took SM's off. They were a couple of the best dressed little girls there Saturday.
And the boys who are so very cute.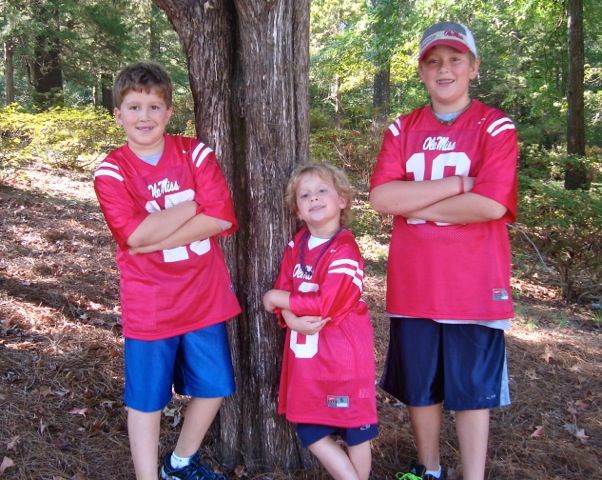 A sweet moment. I told you, they enjoyed each other this past weekend.
Julie and I trying to herd the little kids. It was a long walk for them. At the point this photo was taken we'd only been a few feet. Our cars were parked in the lot across the street behind us.
Our group - Tracey, Julie and their sons Connor, Drew, and Grant, Scott and Reagan S. and their daughter Avery, and us with Sara Madalin.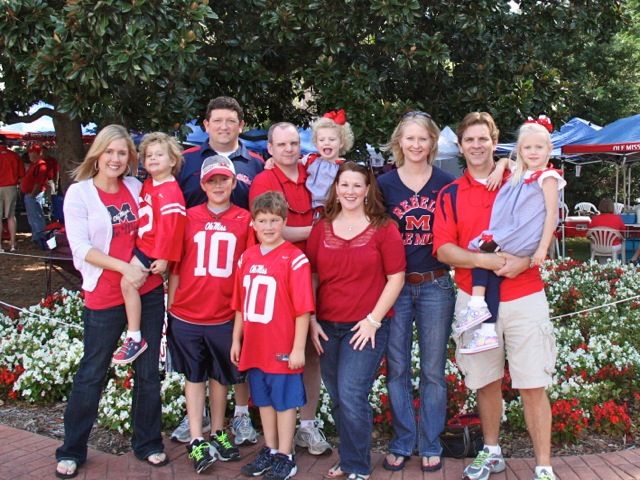 Sara Madalin entering the stadium for her first SEC football game.
The game hadn't even started and Avery had already fallen asleep. Told you the walk was long for them.
Grant was out next. He slept until the 4th quarter.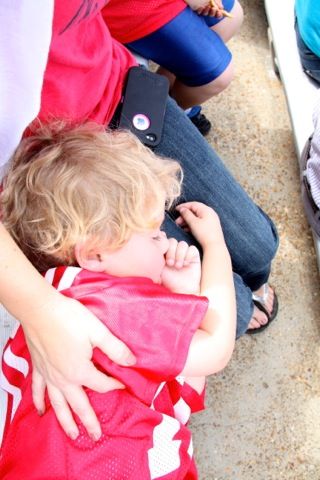 And of course, the biggest fight against fatigue was from our girl. She fought me and Reagan for the entire first half of the game. We took turns taking her to the lower part of the stadium where it was shaded, cooler, and a little quieter. Right before half-time, I took her downstairs, told her to put her head on my shoulder, and she finally gave up the fight after being down there for about 3 minutes.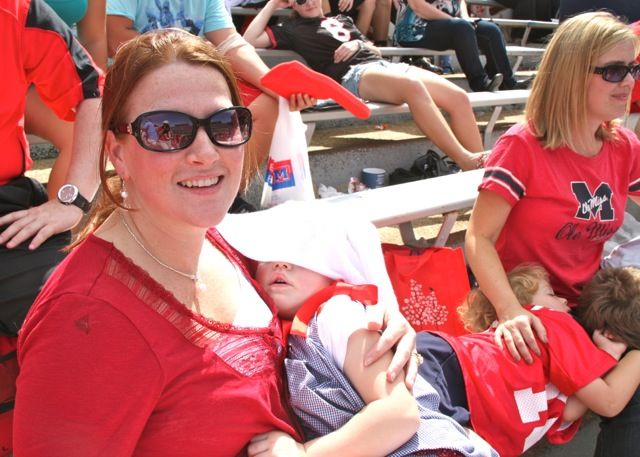 It was so sweet to me that she slept in my arms wit her legs crossed.
Johnny (Scooter) and Ann (B.B.) met us there as well. Johnny is a Georgia alum. He gave Reagan and the other guys a hard time about the score of the game. It was all in good fun though.
Sara Madalin was so happy when she woke up and Scooter and B.B. were there. B.B. had brought gifts, which made her even happier. One thing B.B. brought was a candy necklace. SM had never had one of those before. She put it on and didn't take it off until she had eaten the entire thing.
Here we are after the game. We were all so tired.
We made the long drive back home, ate dinner at a local Mexican restaurant, then headed home for bed. We got home before the boys and the girls posed for one last photo for the day. Even after 13 hours of travel and heat and walking, they were still smiling.
We all slept very good Saturday night and had an opportunity to worship together Sunday morning.