Friday night we took Sara Madalin to her first football game. She has wanted to go to one since this school year started. The first Friday that she was in school, the cheerleaders brought around Spirit Ribbons and talked about the football game. We didn't go that night and the last two Friday nights have been away games. So, we made plans to take her this past week, and it was all she talked about Friday. Here she is in the back yard before we left. She's so cute in her little cheerleader uniform.
And here she is wearing her Spirit ribbon for this week. You can tell she's excited about heading out to the game.
When we got out of the car and started walking to the football field, she asked to ride on her Daddy's shoulders. She loves being up there so she can see everything.
As we entered the gates, one of the first people we saw was her teacher's assistant, Miss Tricia. She was helping collect money for tickets. Sara Madalin was excited to see her.
There was already a pretty big crowd when we got there just in time for kick-off. But we found a seat and got settled in, not quite knowing how SM would act during the game. She sat in my lap and just looked around at everything at first.
She had a pom-pom and cheered some. When the band would play, she'd dance some. She did really well for us. Reagan headed down to the concession stand for popcorn and drinks, and she and I sat and watched the game. Not long after we got there, we looked down and saw Miss Melodi, SM's teacher. She waved at us and walked up to see SM. She and her family ended up sitting in front of us. SM spent more time in her lap than mine.
She had a great time, but we knew we'd probably leave at half-time because she'd be up well past her bedtime. So, when the half-time show started, we began to make our way down the bleachers. She ran around under them for a few minutes, then we started toward the car. As we were heading down the sidewalk to the car, she asked if she could run. We said ok because we thought it would help burn energy and she'd fall asleep on the way home. But, then she fell.
She cut her knee pretty bad. Reagan decided to go get the car and she and I sat on the sidewalk and waited for him to return. Right after I took this picture above, she said, "But Mommy, I wost my hair bow." I looked over and saw it a few feet from us on the sidewalk. A sweet man was passing by and stopped to pick it up and hand it to me.
Reagan picked it up and began to clean and bandage her knee using the small first aid kit he keeps in my car.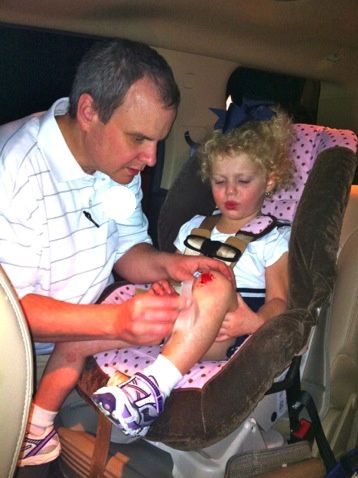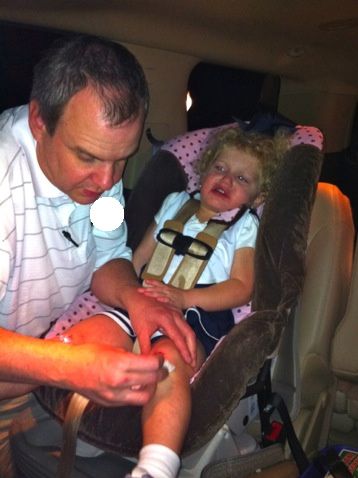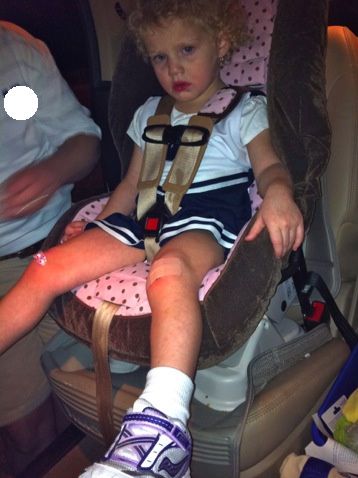 On the way home we stopped and got her a little chocolate (we had promised her candy at the game but the lines at the concession stand were so long that we were unable to deliver on that promise because neither of us wanted to wait 20 minutes for it). She was much better after the candy. Her knees have started healing up and she barely even mentions them. She is already talking about the game this coming Friday night. She will actually get to go to her first pep rally on Friday. I'm hoping to go as well so I can take a few pictures of her.
For those interested, she had a much better week at school this past week. We have been so proud of her and the changes we've seen in her behavior. She's such a sweet, smart girl and we are so thankful to be her Mommy and Daddy.