This past weekend we went on a little retreat that is hosted by our church each year for families. We went last year after having recently joined the church. We realized quickly last year that, regardless of the schedule of activities planned, our family's schedule would more be decided by Sara Madalin and what we felt she was capable of doing. This year we had to follow that same mind-set.
We arrived Friday night at the camp site and sat through orientation. SM was already up past her bedtime by the time we arrived. She was so tired. But she did really good. She sat in either mine or Reagan's lap the entire time and listened to all the announcements and the entertainment provided by the camp administrator. We made it to our room sometime around 10:00. We unpacked and got her ready for bed. She didn't sleep well, being in an unfamiliar setting, plus, we shared a cabin with another family that came in a little later. We had separate rooms, but the rooms were divided by an accordion style folding wall/door. She was very concerned when she heard them come in to their room. I think it scared a little at first. Eventually, she drifted off and slept for a couple hours at a time. Each time she'd wake up, I'd go sit on her bed until she went back to sleep.
Because I knew she was still too young to participate in most of the activities planned, I prepared a little goody bag for her. She is completely obsessed with Spiderman right now. When we ask her if she wants to watch a movie, she always asks to watch Spiderman (she calls the animated cartoons on Netflix, movies). She insists on me calling her Spiderman. Almost any time I call her "Sara Madalin" she tells me, "I'm not Sara Madalin, I'm Spiderman." It's crazy. Someone asked if it bothers me that she's obsessed with what is essentially a boys' figure. It kind of did at first. But I know she'll grow out of it. And she still plays with her dolls and princess shoes most of the time. But if she likes Spiderman right now, I'm going to do what I've done her whole life to this point, I'm going to let her be her. So, I prepared a bag with several Spiderman coloring books and toys. I placed it in the shower stall while she was still asleep. Reagan went to get her up and told her she needed to get a shower for breakfast. She walked into the shower and said to me, "Who put dat in dere?" It was so funny and sweet to see her excitement.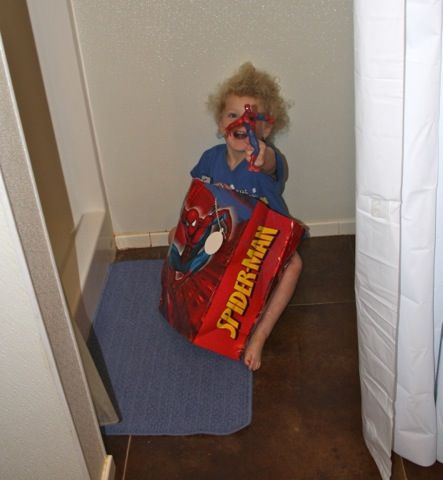 She loved the mask and even asked to wear it to breakfast, but I think we "forgot" to put it on her before leaving the cabin. However, while I was taking a shower Sunday morning, I turned and saw her little head, wearing the mask, peaking in. It scared her Mommy just a tad.
Saturday morning, after breakfast, everyone went for a walk/run/bike ride around the lake. We put SM in her stroller and took our time. She kept wanting to get out and pick up rocks or leaves, or just run a little. We were the last people to cross the finish line. We let her get out and run across and she thought she had run the whole race. Here we are about half-way through our walk. Notice who came along with her.
Another thing all the kids do is bring their bicycles. SM can't quite ride hers all by herself yet. But she can pedal on a flat surface. Reagan followed her around half the morning letting her ride.
About mid-morning, we decided we'd get in one of the paddle boats and paddle SM around the lake. We were told at breakfast that there was one boat that was damaged and that it was clearly marked and we were instructed not to use it. We looked at all the boats, saw one near the shore that had taken on water and thought, "That must be the boat we are to stay away from." We climbed into a boat on the other side of the dock and got ready for our little outing.
We paddled backwards away from the dock. Then we started paddling forward and Reagan tried to steer us. But we just kept going around in a circle. I'm sure we looked very foolish out there, paddling away, and making a big old circle. I don't know if anyone else laughed at us, but Reagan and I sure did. We did discover that we could paddle backwards and it seemed to take us a little more toward shore. We rotated paddling forward and back until we got close enough to the shore that Reagan could pull us up to it and SM and I could get out. One of the other men came over with a couple oars and helped Reagan paddle with those back to the dock.
After all the fun of paddle boating, I decided I'd let SM fish some. Someone had brought several rods and a tackle box full of bait. I fished with my Daddy and grandmother growing up. We lived within feet of a lake behind our house. I've baited a hook before, but it has been many years. I don't remember the worm being so wriggly and disgusting. SM could not believe her eyes when I took one of those worms and pt the hook through him. She was amazed. Then when his insides started coming out, she asked, "What's dat Mommy?" I said, "It's his guts. Don't touch it." I cast the line, and she did the reeling in. I think it probably goes without saying, but we didn't catch a thing.
After we "fished," for the rest of the day, she'd go up to random people, some of whom she had never met before, and say, "She touched the guts." I had to explain to several of them about our fishing adventure. She has asked me a million times since, "Mommy, why you touch the guts?"
Later in the morning, before lunch, a treasure hunt was held for the small children. SM enjoyed getting bubbles, candy, fruit snacks, a balloon, and several other small items during the treasure hunt.
After the hunt, we had lunch, then took SM back to the cabin for a nap. We were all tired and slept for about 2 hours. We then got up and headed back to the dining hall. I made a craft that we used later that night and Reagan and SM did a little more exploring and playing.
We enjoyed dinner then had family worship where we heard a message on making time for family. Service was followed by a talent show, which SM loved. It was full of funny, made-up skits and sweet kids singing and dancing. Following all of this, we all took the torches that we'd made and placed a tea light in them and walked around the campgrounds together. Here are SM and I with the torch I made her.
After the walk, we went back to our cabin to let SM play and get ready for bed. Saturday night was a long night. She didn't sleep well, which meant I didn't sleep well. I was more exhausted when I got out of bed than when I went to bed. I was more than ready to pack up and head home.
Sunday morning we enjoyed breakfast and another family worship time. We heard a message on the importance of making memories with our family and being deliberate about the time we spend together. I was so proud of Sara Madalin. She sat fairly still and quiet during both the Saturday night and Sunday morning services. She talked some, but it was in whispers and when we would ask her to be quiet and listen, she would. I thought she did really well considering she hasn't sat through a church service before.
After worship, we had awards. Our family won medals for being the first to cross as a family, and for being the first with a stroller. Never mind that we were the only ones with a stroller. SM didn't care why we won medals, all she cared about was that she won one. We gave ours to her as well and she was so happy to show them off.
I think Sara Madalin enjoyed herself. And that's what matters most to us. She was pretty exhausted by the time we left. After meeting my sister to get her little girl, we headed home Sunday evening and she went to bed a little early. We were all glad to be home and back in our beds.