Sara Madalin has got the greatest Daddy ever. I don't know what we would do without him. He helps me get her ready for school each morning. If she wakes in a bad mood, he does things to cheer her up and get her laughing and out of that mood. He prays for us each morning. He helps with our bedtime routine by getting her toothbrush ready and changing her into her pajamas. And he does so many other things that help make mine and her life a little easier. We are both so blessed to have him.
One thing he did recently that helped out was taking her to get her flu shot. Our children's clinic doesn't take appointments for kids to come in and get flu shots. They host what they call "shot fairs," or something to that affect. Basically, they take names of the patients who want the shot and put them on a waiting list. When they get a shipment of the shot in, they call that many people and tell you they are setting aside a particular day or night and time to give the shot. If it works into your schedule, you bring your child in for their shot. If it doesn't work for you, you can be left on the list until the next shot fair. Last year, we didn't make any of the shot times and ended up going to get her shot at the health department.
I received a call this year about their first fair but we couldn't make it because it was on a Friday at 11:00 a.m. - right in the middle of a school day. So, when they called a second time, even though it was at 6:45 p.m. at night, I felt like we needed to do whatever we could to get her there. The night that the shot fair was happens to also be the one night of the week that I attend a class. I would have skipped the class if I needed to, but thankfully, Reagan offered to take her for me. The appointment was late enough at night that he could make it home and get her there on time. I was so thankful that he agreed to take her. He decided they would make a date of it.
He took this picture once they had been called back into the examining room.
That was before she'd even seen a nurse or a needle, I think. She's a little bit of a drama queen. I don't know where in the world she gets it. Maybe her Daddy.
After the shot, they went over to Marble Slab Creamery and got ice cream. (He knows her love language - sugar.) She got strawberry ice cream with Oreo cookie sprinkles.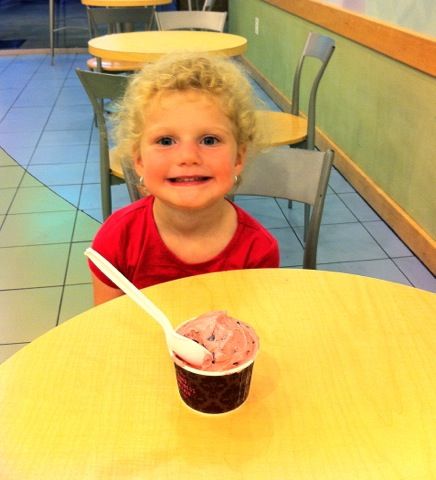 I'm so thankful for Reagan and the father he is to her. She is certainly a "daddy's girl" and loves spending time with him. Especially when there is ice cream involved.