Tuesday night Sara Madalin's school hosted a Fall Carnival. It was our first year to attend. Sara Madalin was so excited. She was most excited that she FINALLY got to wear her Spiderman costume, and she wore it proudly. I wish I had a video of her walking from the car to the carnival. She was walking like she thought she really was a super-hero.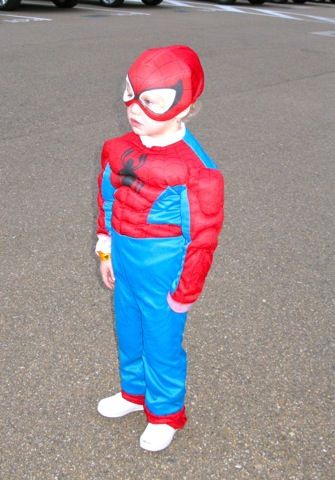 As we were walking to the football field, where the carnival was held, we heard someone yelling, "Spiderman! Spiderman!" We turned and saw Sara Madalin's teacher, Miss Melodi.
While waiting in line for one of the attractions, a little pirate ran over to us and started talking to SM. It was one of her classmates, Wright. He was so cute. They were both so cute talking to each other. I think they were telling each other what they had done since being there or what they were going to do next. So cute to see her interacting with her friends.
While waiting in line, she informed us that she was "throwing spider webs." Here, I got a picture of it.
This is our little Sugar waiting her turn on one of the attractions.
We ran into several of SM's friends. Here she is with Gracie. Gracie goes to our church and has a sister SM's age. Sara Madalin loves her.
We also ran into Jo-Jo. She goes to our church and is also in SM's class (K3) at school. She was dressed like Cookie Monster.
All I can say about this next picture is these girls are three of a kind. Miss Melodi and Miss Tricia need our prayers daily. Sara Madalin doesn't come home talking about too many of her friends, but she does mention these two girls pretty often. This is Katherine and Cloe. They are both in her class and Cloe is in her Sunday school class. They are so funny on their own, and a handful together. I can't wait to see them grow up together.
Next, we ran into Isabel, another member of her class.
As I mentioned in a previous post, Sara Madalin decorated a pumpkin for the "contest." I took pictures of some of the other pumpkins. As you can see, some people put quite a bit of time into decorating their pumpkins. Everyone won a ribbon.
You can't tell as well with this photo, but this is a Cinderella carriage. Pulled by tiny mice.
And here's our girl's pumpkin. Her class went out earlier in the day Tuesday to look at the pumpkins and she got to show it off to her friends. She was so proud.
After looking at the pumpkins, I went to work my shift at the drink (sweet tea) table. Sara Madalin and her daddy went into the gym to play games.
She saw a few more friends while in there. Here she is with sweet Addison.
And here's SM with Shields, Addison's older sister. Those girls love Sara Madalin so much. They are all three always excited to see each other.