About mid-afternoon Friday we realized we didn't have plans for the evening. Since the State Fair was going on, we decided we'd go to it so SM could play some and we could get some good (unhealthy) food. We got there around 7:00 and it wasn't all that crowded. We think that the reason was that most people in our area were probably at Friday night football games, or waiting for later in the night for unlimited riding.
SM was so excited when she saw all the lights and rides. But the first thing on our agenda was a little something to eat. I always like to get a chicken-on-a-stick. For those unfamiliar with that, it's not a whole chicken on a stick. It's chicken nuggets, onion, and pickles fried on a stick. I could them pretty much anytime at a local restaurant. But for some reason, I only get one at the state fair or a local flea market when I visit it. Here's the mascot that was walking around for the restaurant that has the chicken-on-a-stick.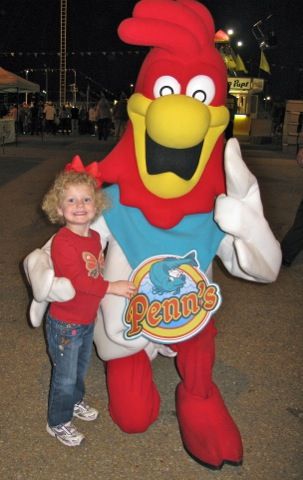 After we ate, we walked over to get ice cream. Then we went to the big slide for Sara Madalin's first ride.
Just as she and her Daddy were about to climb up to slide, we saw one of her classmates, William Wright. They went up together and came down at the same time. The little curly head that you see in front of them is his little sister. I had a picture that included her, but it wasn't really blurry. I was excited for SM that she saw one of her friends.
We rode an elephant ride, then she rode the carousel. She loves to ride the horses.
But her favorite thing about the night - by far - was the jumper. It's bungee ropes (cords??) that you're strapped to while you jump on a mini-trampoline. She saw one at another event a few weeks ago and couldn't jump because she was so small. This one was especially for little kids, so we thought she would be fine to jump.
First, they weighed her. The minimum weight requirement was 30 lbs. She weighs about 33 lbs. So, she passed.
She loved it so much, we came back later for her to jump again.
After jumping the first time, we went to the petting zoo so she could feed the animals.
Guess who we ran into - one of her best buds, Grant, and his family. They are our friends that we spent the weekend with a few weeks ago. It was great to see them again.
A lot of the rides had minimum height requirements. To be sure we met those, we let her stand beside a height chart to see how tall she is. I think if I re-adjust that hair bow of hers, she can pass for 42 inches.
She rode a car ride. She thought she was really driving. She told us when she got into the truck, after we got her to smile for a picture, "Weave me awone, I'm driving."
She and I rode a roller coaster. She was a little unsure at first, but loved it by the time we got off it.
Then it was back tot the jumper one last time before we left for the night. She had a great time.