Sunday evening we went to a Fun Fest Carnival with our friends the Douglases at their church. Sara Madalin was excited to see her friends Grant, Drew, and Connor. She was also excited to get a little candy. To get that candy, she played a few games. Here she is shooting a water gun at a moving target.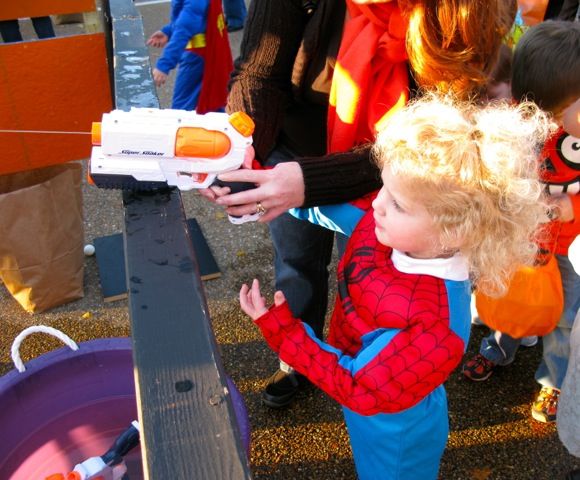 Spiderman and her buddy Superman - these two are quite a pair
Waiting for one of the games
She did this little bungee game. Reagan strapped her to a bungee strap and she was to run until she couldn't run any more, then it snapped her back. She loved it.
She had a great time. After we played for a couple hours, we went to dinner, then she came home and slept great. We all did. I know she's having a great time at all these carnivals and Fall activities. I'm tired and part of me will be glad when all these little things are done. But another part of me knows that in such a short time she won't enjoy these festivals as much and I'll wish she was still this age. So, I'm pushing through whatever fatigue I have and I'm enjoying seeing her have fun.
I guess I can always sleep when she goes to college.