While I was away this past weekend, Reagan and Sara Madalin spent some time together having fun. Friday night they went to Backyard Burger for dinner and play time. Saturday, they went to Reagan's dad's to see him for a little while. After nap time Saturday, they went to one of their favorite places - Sam's Club. They both like going there because they can get a Coke Icee. Reagan has always liked getting an Icee there. When SM was old enough that we'd let her have a little caffeine, he'd give her a sip or two from his cup. Now, if he gets an Icee, he better not even THINK about coming near SM unless he has a second straw in the cup for her. He texted me a picture of her enjoying her Icee Saturday night.
My reply to his text was, "Can you please do something about that hair bow." This was the next text I received.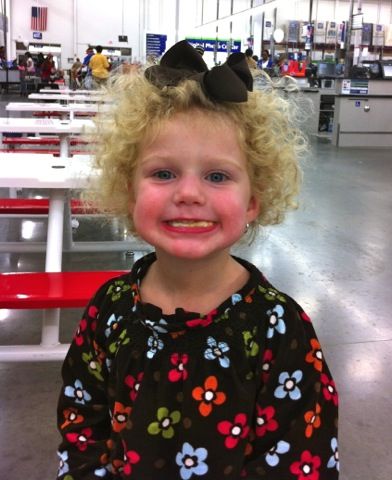 At least they were enjoying themselves.
After leaving Sam's, he took her to play a little goofy golf. He sent me a few pictures of that as well.
After golf, they ended the night with a little ice cream. She chose blue.