Monday night we got dressed for a little fun at a Fall Festival sponsored by the church we attended before Sara Madalin was born. Before we headed out, SM and I headed next door to see Miss Holl-wee (Holly). She kept Sara Madalin for me one semester and SM loves her. It doesn't hurt that she had chocolate when we arrived.
After leaving Holly, we went to the drug store for a few minutes. SM took the opportunity to trick or treat while there. Mrs. Kim gave her chocolate.
Scooter also had chocolate. But Scooter always gives her candy when she sees him.
He asked for a kiss in exchange for a little more candy. He knows SM's love language.
After picking Daddy up at the drug store, we headed out to Harmony. SM ran straight to the kitchen to see Ms. Ann. I saw Ms. Ann a couple weeks ago and told her we might come out to the festival. I'm so glad we were able to make it because she and SM were both so happy to see each other.
After a couple games, SM saw Ms. Lynn.
Then we saw Susie. We love Susie and her husband, Wayne, dearly. They have been such a blessing to us and we are so thankful for God placing them in our lives.
Then, after giving Mrs. Mary a quick hug, SM went fishing. It was just pretend, but she thought she was really fishing. Dr. Tony was behind the wall putting candy on the fishing "hook." He pulled and tugged her line and she believed even more that there was a fish back there.
Sara Madalin and Dr. Tony
We saw lots of other people that we have loved for years. One of our favorite people is Ms. Stacey. She was SM's first Sunday school teacher. Sara Madalin LOVED Ms. Stacy. SM was always so excited to see her.
And finally, I got to meet this next family in person. I've blogged about them. I've seen pictures of them. But I had not met them until last night. If you're wondering who they are, you might want to read this post or this post I wrote back in February.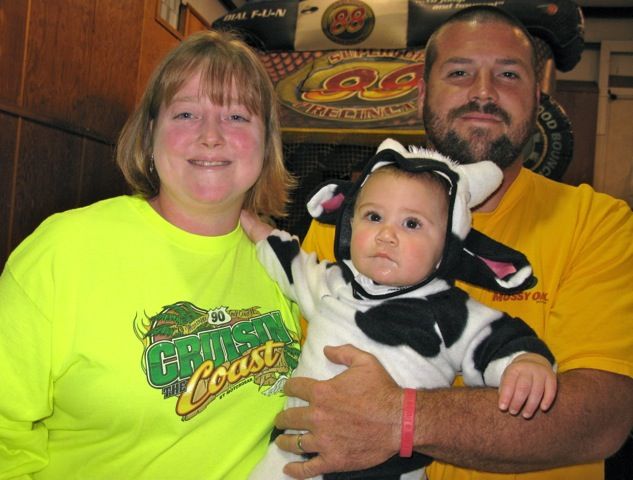 That little cow is the sweet little boy they adopted. He was a little tired Monday night and didn't really want anyone but his mommy. But I was so excited to finally meet them and get to give him a little love.
We enjoyed ourselves. Sara Madalin finished up the night by jumping her heart in the bounce house. She's done that a couple times in the last few days. And each time, when we come home, she sleeps better than she has in months. She has slept all night for the past two nights. We are seriously considering investing in a jump house to keep here in our backyard. When you are as tired as we are, you will go to extremes for a little un-interrupted rest.